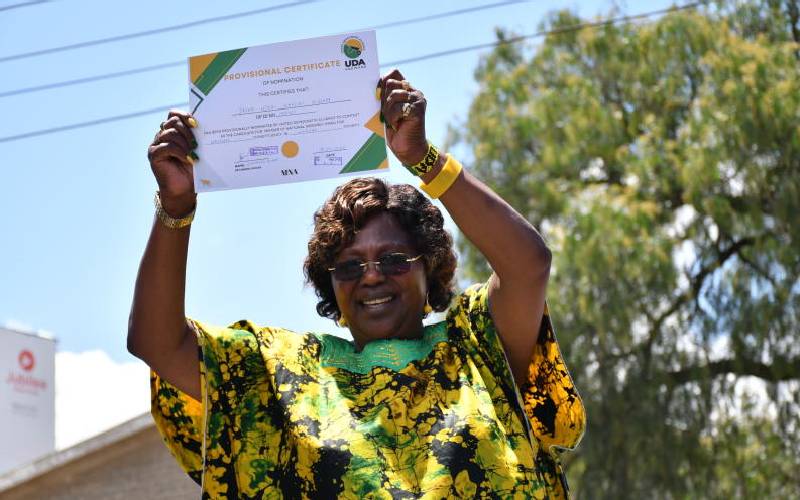 The United Democratic Alliance (UDA) has been challenged to obey a court order and repeat party primaries in Naivasha Constituency.
Former Naivasha MP Mr John Kihagi termed the decision by the Political Parties Dispute Tribunal's ordering repeat nominations timely.
At the weekend, the tribunal directed the party to hold repeat nominations to determine who between him and the incumbent, Ms Jane Kihara, should contest on the party's ticket.
Trouble started two weeks ago after Mr Kihagi was declared winner in the primaries only for the party's nomination board to reverse the decision, citing irregularities.
The party's national election board gave Ms Kihara the certificate after ruling that she had won. Mr Kihagi appealed the decision at the Political Parties Dispute Tribunal, which directed that the party repeats the primaries.
Addressing the press, Mr Kihagi said justice had been done. He castigated Ms Kihara for seeking Deputy President, Dr William Ruto's support in the dispute. "We welcome the decision by the political party tribunal and we are ready for the repeat exercise," he said.
Kihagi said that his supporters were fully behind DP William Ruto adding that party officials should not take sides in the primaries.
"Some people are already claiming that they have the support of the party and we are calling for fairness in the nomination exercise," he said.
One of his supporters Wangari Kabera told of their joy after the appeal was heard and ruled in their favour by the tribunal.
"These marks one of the biggest days for us and we are ready for the nominations and we are sure that we shall win," she said.
This was echoed by Zebediah Onyango who said that justice had been done after the party's nomination board unfairly awarded the certificate to their rival.
"Naivasha people should be allowed to make their decisions freely in the coming nominations as ordered by the court," he said.