Third of Nakuru's Sh2 billion affordable housing units sold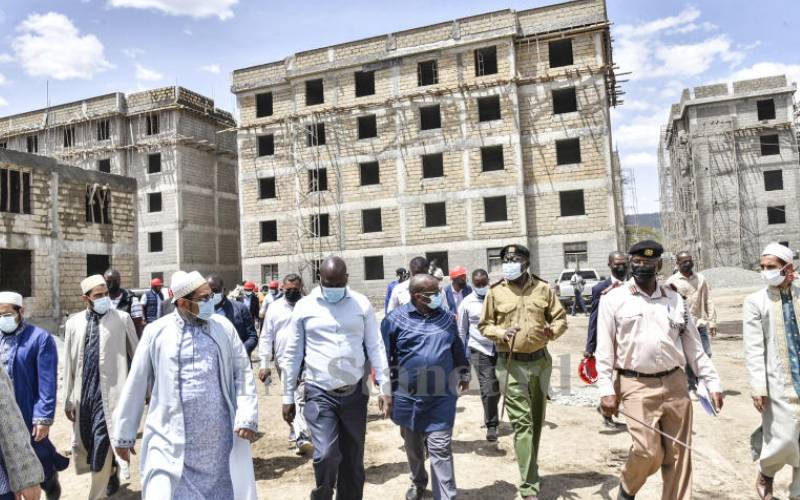 A third of the 605 units at the Bondeni affordable housing project in Nakuru City which are being constructed under a public-private partnership agreement have already been sold in advance, Royal Group Industries Director Yusuf Hassanali has said.
Mr Hassanali revealed this during a progress tour of the project by Housing Principal Secretary Charles Hinga.
"We acknowledge the positive response from the market on the project which is still in progress. It is encouraging that 32 per cent of the units have already been purchased," said Hassanali.
Construction of the project commenced on May 27, 2021, with a Sh2 billion funding by King Sapphire Developers, a subsidiary of Royal Group Industries that focuses on real estate developments.
In the project agreement, the private investor provided funding while the government provided a 7.5-acre piece of land formerly occupied by municipal houses to make the new units affordable.
"Our ultimate goal is to incorporate a high level of quality into these housing projects to provide decent housing to our clients at affordable rates," said Hassanali.
He pointed out that the company has created jobs for hundreds of workers at the project which is located at the periphery of the informal Kivumbini and Bondeni settlements.
Mr Hinga said that while some of the houses will be purchased by civil servants, some of the units will be reserved for those from humble backgrounds who may not access credit from banks.
"We shall ring-fence at least a 100 units for people living around the upcoming estate. The reserved units shall be purchased on the tenancy purchase scheme through the National Housing Corporation," said Hinga.
The Civil Servants Housing Scheme which facilitates civil servants to access to access such units has also committed to purchase 20 per cent of the units and will be among the anchor tenants.
"We don't want an affordable housing project to be turned into a preserve for the rich. While the civil servants have joined the anchor tenants, we want the local community to also own units in this project by availing affordable credit for them," said Hinga.
The PS pointed out that having civil servants as anchor tenants will attract them to purchase the units.
The project will be completed by December 2023 and will have 45 one-bedroom units each going for Sh1.55 million, 180 two-bedroom units each at Sh3.15 million and 380 three-bedroom units at Sh4.25 million each.
Hinga took issue with people who sued the government over a planned deductions on salaries for a housing fund, saying demand for housing is still high.