How race, social status shaped growth of Eldoret estates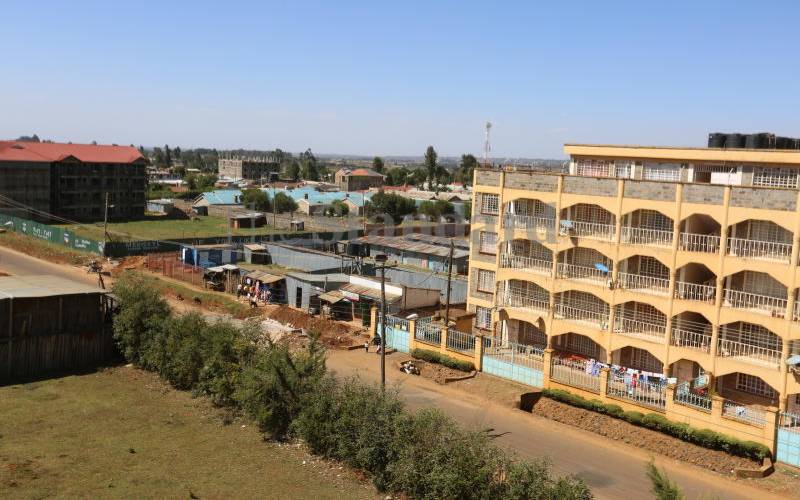 Eldoret town in Uasin Gishu is a fast-growing urban centre. With a population of close to half a million, based on the 2019 national census, Eldoret is the sixth most populated town after Nairobi, Mombasa, Kisumu, Nakuru and Ruiru.
It is known to have some of the oldest estates. Some of them were established as people started migrating to urban centres to seek jobs from the 60s.
Some of these estates have peculiar names based on the social status of those who lived there, and race.
Former mayor Joseph Kiplagat says some estates existed even before independence.
"Africans who worked as casual labourers lived in estates such as Kidiwa, Macharia, Kilimani, Majengo, and Kapsuswo, near the Kipchoge Keino Stadium. Somalis lived at Kampi Somali, a few meters from the Coca Cola depot in Eldoret, while Indians lived in Eldoret West. The whites, on the other hand, lived in Elgon View and Kapsoya estates," says Kiplagat.
The Elgon View estate was associated with the affluent, who included politicians, athletes, top civil servants and businessmen. The estate hosted whites, government ministers, district commissioners, and top colonial officials.
Joseph Kendagor, who served as municipality clerk between 1969 and 1992, says Eldoret has steadily grown over the years. He says after independence, the local municipality build several estates, including Bondeni, Kuria, Paul Ngei, Shauri, and Kipchoge estates, and rented them out.
In the 1970s and 1980s, the population grew exponentially, thanks to industries that came up. These industries included Rivatex, Raymond, Ken Knit, Rai Plywood Limited, Dollar Maize Meal, Unga Limited, Pembe, Steel Mill Industries, and Kenya Cooperative Creameries. The Coca-Cola Company also set up shop in the town.
"That was the time rural-urban migration had become a norm as people moved to Eldoret town in search of employment. However, the challenge was that shelter was inadequate," says Kendagor.
Kipkaren estate was then established. The municipal council developed a scheme and divided it into plots. It also ensured the estate was connected to water and the sewerage system. Those who benefitted from the plots were allowed to develop them.
"Majority of the people built mud houses since the estate attracted low-income earners. Some of them were hawkers while others did casual jobs," says Kendagor.
Many workers at Rivatex, opened in 1975 by the late President Daniel Moi, lived at Kipkaren estate and others at Langas.
Kapsoya estate was expanded by the municipality in an attempt to come up with a more excellent estate. Kapsoya is today among the few well-planned estates in Eldoret.
The estate has received a major facelift, especially since the advent of devolution, that has seen roads tarmacked and street lights installed.
Kendagor says other estates including Langas, Huruma, Kamukunji, Munyaka, Kimumu, Sukunanga developed as residents sold their land for quick money. These estates have attracted many casual workers in Eldoret because they are cheaper. Eldoret's growth is also driven by the emergence of multiple colleges, university campuses as well as residential estates.
Huruma, on the western side of the town along the Eldoret-Malaba highway, is among the oldest estates. Its growth can be credited with the opening of the Rai Plywoods Company in 1973. It was home to hundreds of people who worked at the factory.
Other estates have since come up around Huruma. They include Maili Nne and Mwanzo among others.
West Indies, originally home to residents of Indian origin, has some of the old buildings endowed with ancient Indian architecture. Many Kenya Railways workers lived at Railway and Mwanzo estates. West market mainly hosted municipality staff.