Battle of titans looms in Narok governor contest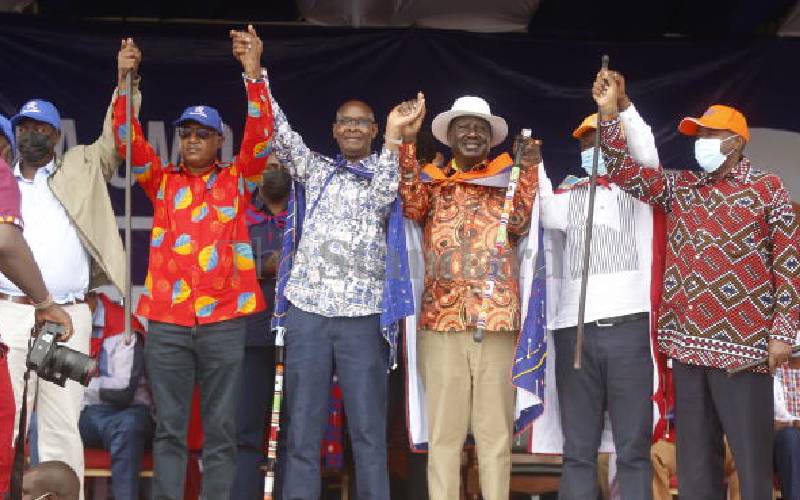 The Narok governorship race is likely to be one of the most hotly contested.
In the 2013 and 2017 elections Governor Samuel Tunai who is a close ally of Deputy President William Ruto carried the day.
In what is seen as a masterstroke ahead of the August 9 poll, ODM leader Raila Odinga has united five governor hopefuls in a bid to get one of them to face off with DP Ruto's UDA candidate.
The five governor hopefuls are Narok North MP Moitalel ole Kenta, former ICT PS Joseph Tiampati, Youth Affairs PS Charles Sunkuli, Kenya Revenue Authority Commissioner Kishanto Suuji and Stephen Koriata.
On Saturday during a rally at Masaantare grounds in Narok South, Mr Raila strongly indicated his intention to control the resource-rich county.
"I have seen that all of you want this seat. At the end of the day, one of you will win it. I want you to agree that whoever gets the ticket is supported by the others," said Raila.
The candidates concurred, and Raila promised State jobs to those who support the ODM candidate.
On the other hand, Dr Ruto is facing a rough time as three of his allies are not ready for consensus.
The aspirants eyeing the UDA ticket are Labour Chief Administrative Secretary Patrick Ntutu, and MPs Gabriel Tongoyo (Narok West) and Soipan Tuya (Woman Rep) who will face each other in the party primaries to be held in April.
A source close to the three told The Standard that Ruto has been meeting the candidates separately to convince them to settle on one aspirant but to no avail.
"Each of them is telling the DP that they are popular on the ground," the source said.
Ruto has been rooting for consensus during his trips to the county.
Ruto's efforts bore fruit a few months ago after Narok South MP Korei Lemein who had declared interest in the seat shelved his ambitions. "Ruto had approached me to drop my bid and support one of us. I took my time and recently I met him and told him that I had made up my mind and I will be defending my seat," Mr Lemein told The Standard.
UDA's challenges are also worsened by the rivalry between Tongoyo and Ntutu.
Tongoyo who succeeded Ntutu in Narok West was elected on a CCM ticket.
Ntutu who will be seeking a second stab at the governorship believes that his record as MP and CAS gives him an edge over the rest.
"In the last election I came second and since whoever won is finishing his term then I am better placed to take over," said Ntutu.
Ms Tuya on the other hand insists that she will be the first female governor in the county.
"I am ready to face off with these men in the nominations and I will beat them. The future of the world is now female," declared Ms Tuya when she launched her bid.
Tongoyo has vowed to stay put in the race, saying that he has huge support and will trounce the ODM candidate. "I have invested in campaigns and I am stopping at nothing but the nomination ballot," he vows.
Narok is a tourism hub by virtue of being the home of the world-famous Masai Mara Game Reserve which fetches about Sh3 billion annual revenue.
Watford sack manager Ranieri
Watford sacked manager Claudio Ranieri on Monday following their 3-0 home defeat by Norwich City, which left the Premier League club two points below