Raiders shoot herder dead at border, steal 250 cattle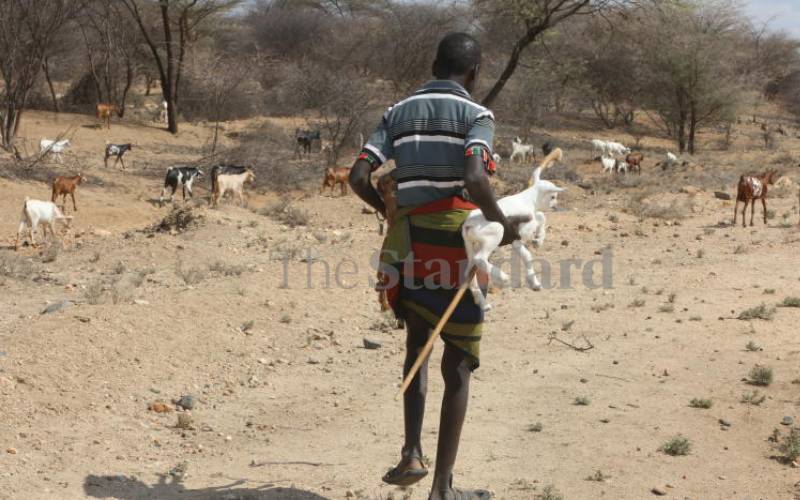 One herdsman was shot dead, and three others sustained gunshot wounds after Toposa raiders from neighbouring South Sudan attacked a remote village at Natapar location in Kibish Sub County in Turkana North.
Confirming the incident, area Deputy County Commissioner(DCC) Richard Ajwang said the heavily armed raiders, estimated to be 200, surrounded the village on Thursday morning at around 3am, attacked herders at Natapar village and drove out about 250 cattle.
"It's unfortunate that the raiders surrounded the village before they opened fire at villagers. The assailant killed one herdsman and seriously injured three before they escaped with more than 250 herds of cattle towards the South Sudan border," Ajwang said.
He said the raider fatally shot Ebu Nangole, 21, who succumbed to injury. The assailants also seriously wounded Lopukaru Nangole on the left leg, Kaanyang Nangor was injured on the right hand and Lopolongee Chokoo had a gunshot on the shoulder.
The DCC said the injured victims were taken to Kaikor dispensary, while the body of the deceased was kept at Kaikor morgue awaiting an autopsy examination.
Ajwang said a contingent of security personnel, among them the National Police Reservist (NPR) who responded to the attack engaged the raiders in a fierce fire exchange in an attempt to recover the stolen animals but were overwhelmed by the heavy firepower from the raiders.
The senior area administrator said security has been beefed up at the Kenya-South Sudan border to forestall any further attacks following a reinforcement from the General Service Unit and additional NPRs from the area command unit.
"Officers from post assisted together with NPR immediately proceeded to the scene of the attack. They engaged in the shoot-out in an attempt to recover the stolen stocks. However, they were overwhelmed by raiders who were believed to be about 200 in number," he said.
The DDC added; "Efforts to recover the stolen animals proved futile after as raiders had crossed with the animals across the border."
He said poor network connectivity and hard terrain had hampered recovery efforts.
Tension remained high in the area following the dawn raid.