Nakuru County won't ban fishing in Lake Naivasha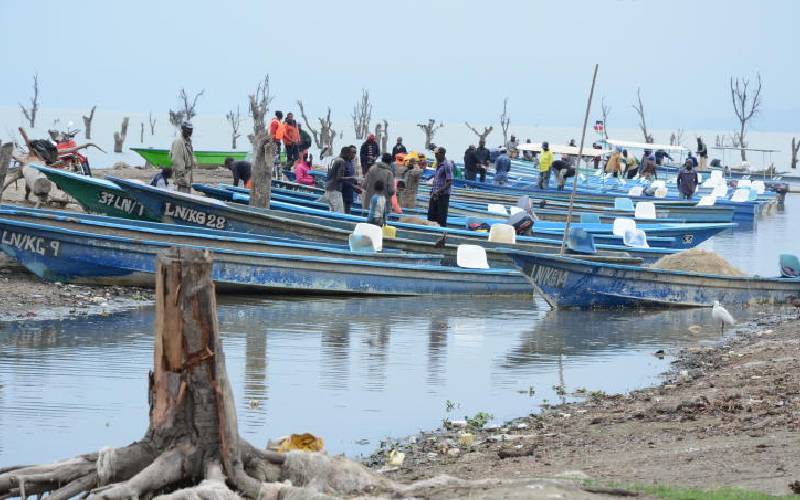 The county government of Nakuru will not reintroduce a ban on fishing in Lake Naivasha despite the sharp drop fish, governor Lee Kinyanjui said on Wednesday.
Instead, the government will embark on mass restocking in the lake whose stocks have been affected by illegal fishing, according to Kinyanjui.
In July last year, the county had contemplated reintroducing the annual fish ban in Lake following a sharp decline in fish catch.
The county tasked the Kenya Marine and Fisheries Research Institute to conduct a study on the fisheries sector before taking the next step.
The drop in the fish catch was attributed to overfishing, prevalent cold weather and an increase in the number of illegal fishermen.
But while speaking in Naivasha, Lee said the county will instead implement recommendations of a task force formed last year to address the challenges of the lake.
He spoke in Naivasha where he officiated the groundbreaking ceremony for rehabilitation of a local municipal park at the cost of Sh68 million, a project co-funded by the county government and the World Bank.
"Lake Naivasha is critical to the economy of Nakuru and banning fishing will adversely affect thousands of people who depend on it directly and indirectly," said the governor.
Le said restocking the lake to boost fishing is among the key recommendations by the taskforce.
"We have already started enforcing the measures. We shall not reintroduce a fishing ban as this will affect our people and our economy," the governor said.
Meanwhile, Kinyanjui said they have started the process of upgrading Molo and Gilgil towns into municipalities.
"Nakuru has been elevated into a city which gives room for other small towns such as Molo and Gilgil to rise to municipality status which will be a major gain to area residents," the governor said even as he restated his intention to defend his seat at Ubuntu Peoples Forum ticket.
Kinyanjui said the park had been targeted by land grabbers. "But we will rehabilitate and make it one of the most modern and environmentally-friendly parks in the county."
He said: "For years, unscrupulous traders have targeted public land in the county but my administration has always moved in to reclaim the properties which have been handed back to the public."
"Mai Mahiu is now one of the fastest-growing industrial centres in the country thanks to the industrial park and the recently opened Inland Container Depot. Transportation of cargo from Mombasa to Mai Mahiuand, through SGR, later to Malaba has already transformed this town."
Viwandani MCA Eric Gichuki praised the move to rehabilitate the municipal park and called for resettling of street families who live there.
His Lakeview counterpart Simon Wanyoike Wanango praised the ongoing rehabilitation of roads in Naivasha town and its suburbs.
"The county has done a lot in terms of road works. However, we need more kilometres of road done as Naivasha is now a hub of business and tourism," he said.