Lonyangapuo demands mop-up of arms in Kerio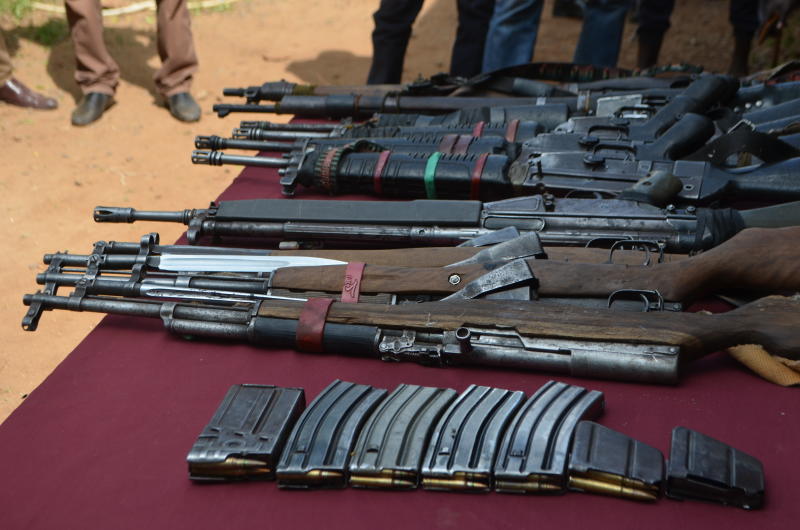 Governor John Lonyangapuo has urged President Uhuru Kenyatta to order forceful disarmament in Kerio Valley to end an upsurge of killings in the region.
Prof Lonyangapuo was angered by the unending banditry attacks along the common borders of Baringo, Elgeyo/Marakwet and West Pokot counties thjat have led to killings and theft of livestock.
He said gains of previous peace meetings have been eroded and the only solution to safeguard the region is to mop up all illegal guns in the hands of criminals causing havoc in the area.
"If the national government is unable to disarm criminals, let us exchange the roles, the law allows us the functions of the national government to be done by county government. We will help them to collect illegal guns," he said.
Lonyangapuo said security agencies should use force and spare no one, arguing that the region has seen a spike in killings, with school-going children and teachers not spared.
However, he criticised the recent re-introduction of arming National Police Reservists in Marakwet East while leaving out other regions, including Pokot Central.
The governor reiterated that the national government should deploy more security personnel along the border.
He added that they have provided enough infrastructure in the affected region including the construction of police houses for camps to be set, but none has been posted to the area.
"I find it odd that the national government has failed to pitch tent along the border and restore peace. I built houses for them but no police officer has occupied the houses. Something is not working," said Lonyangapuo
Two days ago, four people were buried at Cheptulel, among them two learners, after being shot by bandits, rising tension along the border.
Residents have fled their homes and abandoned businesses for fear of attacks in Chesogon along Pokot Central and Marakwet East sub-counties.
"The valley of hope in Kerio Valley has turned to be a valley of death. The government should do away with national police service since some use their guns to main our people," he added.