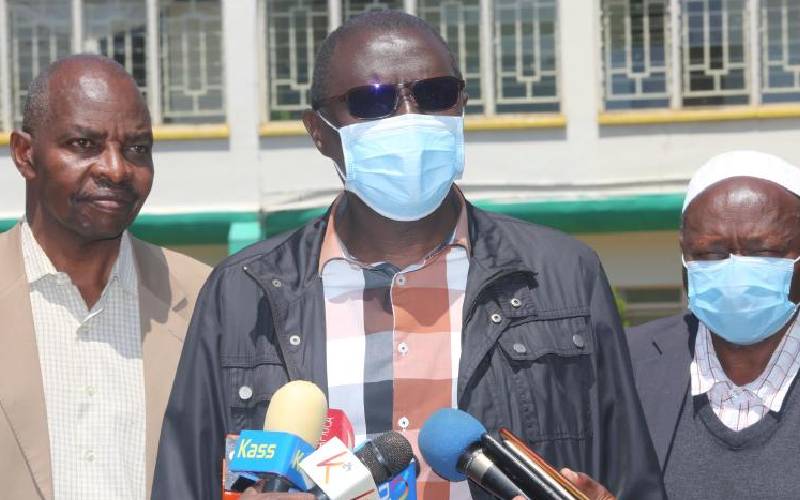 High production costs, climate change, pests, diseases and poor marketing have conspired to derail the production of maize in Rift Valley.
This year, farmers raised the alarm at imminent crop failure when by June, their crops had begun to wilt. There was inadequate rainfall in Rift Valley from March to May, which is usually a rainy season. Instead, it was mostly sunny and windy.
Though farmers have mastered weather patterns, optimal production and returns are a far cry.
Cornelius Kering, a farmer who leased a farm in Soy, says the cost of inputs has gone up, yet maize prices have dropped. "From the seven acres I leased, I expect to harvest 150 bags. But the price per 90-kg bag, Sh1,800, is low," says Kering.
He said the dry spell at start of the planting season affected yield, and he spent more on chemicals to control fall armyworms. "I leased each acre at Sh18,000, spent Sh3,000 ploughing, Sh1,500 harrowing, Sh2,000 on seeds, Sh7,000 fertiliser, planting at Sh1,500, weeding with chemicals Sh2,000, top dressing Sh3,500, and applying urea, Sh3,500. Others were stacking at Sh1,500, harvesting at Sh70 a bag, loading for transportation Sh30 a bag, shelling, Sh70 per bag," he said.
An acre in Uasin Gishu produces between 22 and 25 bags of maize.
Kering and several other farmers are now unhappy that despite the high costs of production the returns will be low. "The government offers low prices, leading to losses in maize production," he says.
Lydiah Chebet, also a farmer in Soy, has an acre for maize and complements income by providing labour during harvesting. "Earnings from harvesting maize last year was Sh30 per bag. Due to the high cost of living occasioned by Covid-19, those harvesting demanded Sh50 per bag. One can harvest between 10 and 15 bags a day," Chebet told The Standard.
She wants government to raise producer prices to Sh4,500 per 90-kg bag. "The cost of fertiliser and other operational costs are so high. After using planting fertiliser, I do not do top dressing. At the end of season, I'm contented with my harvest, as I can feed my family," said Chebet, adding that middlemen reaped more since they buy from farmers at between Sh1,700 and Sh2,000, bulk the produce and sell to millers at Sh2,500.
The farmers say producing a bag of maize costs them at least Sh2,900, making selling at Sh2,500 a loss.
Thomas Korgoren, a maize and wheat farmer, claims government has ignored farmers, aggravating poverty levels. "Farming is business. Before government announces prices it should consider production costs for farmers to get better returns. Farmers have been ignored and millers have taken advantage, offering low prices," said Korgoren.
He said agriculture was a source of employment for more than 70 percent of North Rift residents, who rely on maize sales for school fees, health, travel, upkeep, and that whenever a need arises, most farmers dispose of produce at prices below production costs. "If the government is willing to assist farmers, it should get closer to farmers. Elected leaders should push for good policies to assist produces and consumers," said Korgoren, who also aggregates wheat and maize from farmers and sells to millers.
Kibet arap Too says challenges in the sub-sector are not new, as leaders and authorities do not offer solutions. "People are only interested to be elected and thereafter, they ignore the electorate. None of our leaders has raised an issue after the National Cereals and Produce Board offered Sh1,305 price," said Kibet.
He said the fertiliser price has hit Sh5,200 and expects its demand to go up in the next planting season. "More farmers may abandon maize production next year," he said.
Kipkorir Menjo, a Kenya Farmers Association director, attributed the current rise in fertiliser prices to high cost of fuel, freight charges and Covid-19 pandemic.
"There is risk of food insecurity next season, as fertiliser producing countries give more attention to domestic production adversely affected by lock-downs in the last season," said Mr Menjo.