Potato seed company eases farmers' woes with high-yield certified seeds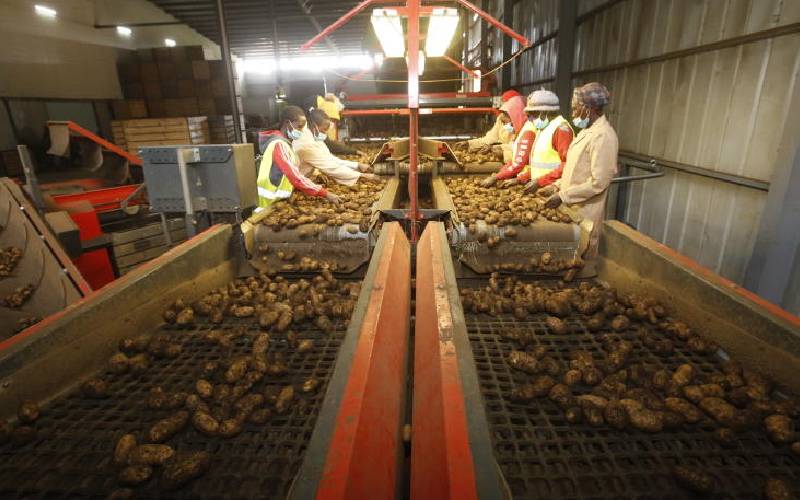 A potato seed multiplication company in Nakuru is providing certified seeds to farmers throughout the year, in an effort to address decline in production of the crop as a result of the use of uncertified seeds.
Agrico East Africa Company imports at least 200 to 300 tons of potato seeds from the Netherlands annually, which are multiplied on their farm.
Director Kimoi Moi said the farm is there to fill the gap of shortage of certified seeds and supply quality to farmers.
"From my perspective, there is a lack of certified seeds but we are filling the gap. Slowly we are reaching out to the farmer in an effort to make them understand," said Kimoi.
Traditionally, farmers preserve potatoes harvested from their farms which they use as seeds. However experts warn that the practice does not guarantee maximum production.
To ensure continuous production and supply of seeds, Agrico East Africa Company plants potatoes under irrigation at its farm in Kabarak.
The company has also employed the use of technology among farmers in Nakuru to ensure there is a continuous supply of the seeds in their stores.
This year alone, the company covered 110 hectares of potato, targeting to get at least 5,000 tonnes of seeds.
Kimoi said the company decided to come up with the project following the high number of losses farmers in the country were incurring due to lack of quality potato seeds.
"Quality production equals quality seeds. Agrico East Africa decided to multiply seeds after realizing that farmers recycle harvested produce that is not certified, a practice that has in the past caused them numerous losses," he said.
Potato varieties multiplied on the farm after approval by the Kenya Plant Health Inspectorate Service (Kephis) include destiny, markies, rudolph and manitou. Production capacity of the varieties ranges between 18 to 20 tons per acre.
Destiny variety is suitable for crisping and has high-dry matter content and shallow eyes that are good for processing. It also has high resistance of Y virus and golden nematode.
Markies, on the other hand, is a late-maturing variety (matures after 100 days) with dry matter content and that is good for French fries and crisping. It has some resistance to blight and Y virus.
Whereas most farmers incur challenges of early blight in potato production, manitou, a variety that matures after 90 days, is resistant to the disease.
Daniel Mwaura, an agronomist with Agrico East Africa, said before planting potatoes, farmers should first subject their soil to tests as this will help in understanding the type of fertilizer to use.
"Farmers must know soil type, its pH, the elements in it and diseases. The element in the soil will inform what type of fertilizer to use," he said, adding that a farmer has to monitor his crop regularly hence the need to be near the farm always.
He called on farmers to avoid recycling their seeds as new and clean seeds have hybrid vigour and can withstand diseases.
"We do follow up on farmers ensure they plant accordingly, use right fertilizer and during harvest we connect them with the market," he said.
The agronomist noted that the selection of high-quality potato seed is essential for production to avoid seed-related problems for farmers.
Farm manager Sila Kandie said they are fully mechanized for purposes of monitoring quality and efficiency. He said the use of machinery has made it possible not to contaminate the seed potatoes.
The use of technology he said has given them the benefit they wanted. He said they are able to harvest up to 5,000 tonnes per season. "We meet our demands because we plant off-season. Our potato seed quality is good," he said.
Benjamin Kemboi, the Quality Assurance Manager said close monitoring is done not only in the farm, but also during and after harvesting.
He said to avoid damaging the seeds, containers used to transport them for grading have a mattress layer. He added that harvested potato seed is later taken to a storage facility at the farm that holds at least 500 tons of potato. At the stores, the product is highly protected from temperature and light.
The storage area is also free from potato waste and cull piles. Kemboi said Kephis does an inspection on the production of seeds on the farm including planting, growing, and storage before distribution to farmers in various localities.
"Kephis officers visit the farm, inspect the crop and observe practices applied before approval," he said. Visitors disinfect their feet before entry, and their vehicle drive through a disinfectant trough.