Police arrest 19-year-old who led five-man gang
RIFT VALLEY
By Nikko Tanui | Dec 15th 2021 | 2 min read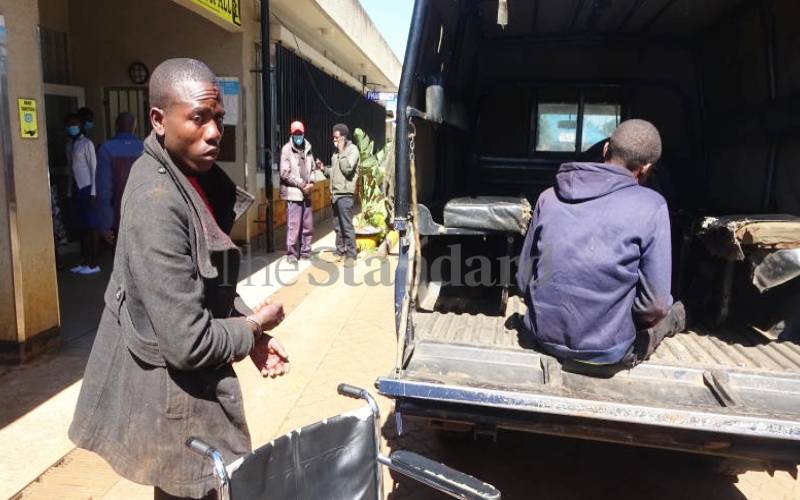 A 19-year-old teenager who worked as a mechanic in Kericho town is suspected to have been the leader of a five-man gang that terrorized residents for almost two months.
According to police, Job Oyaro masterminded a series of armed robberies with his gang that was based in the neighbouring Kisii county.
Initial investigations by the Directorate of Criminal Investigations (DCI) indicates Oyaro escaped when detectives gunned down two of his accomplices on Saturday at Kapsuser trading center.
Area CIO John Onyango told The Standard Oyaro was shot in the elbow during the incident on Kericho-Litein Road.
"Oyaro managed to slip out of the vehicle unharmed and disappeared in a nearby tea plantation. Members of the public stumbled on him as he tried to aid Brian Ontita Motari, 21, who escaped with a gunshot wound," said Onyango.
Police officers who were on their trail were forced to shoot at the suspect's getaway vehicle after they defied orders to stop at the Kericho Interchange, leading to a dramatic chase that ended in the shooting.
The CIO added, "The public descended on Oyaro for aiding a wanted criminal before police took them to Kericho County Referral Hospital before their arraignment in court."
Onyango said nine mobile phones, several ID cards, bank credit cards, NHIF cards, personal documents, women's handbags, TV, gas cylinder, fake guns, and crude weapons were among items recovered from the suspects.
The suspect's gateaway vehicle which they had stolen in Rongai and altered number plates was damaged after the driver crashed it into an electric pole.
Also recovered from the suspect were imitations of police uniform and military fatigues which they had been wearing to pass as security officers on patrol.
Before running out of luck on Saturday, the suspects reigned terror on Brooke residents and robbed National Construction Authority officer Mils Sigei and Kericho Equity bank manager Richard Koech.