Tobong'u Lore festival cements relations among pastoral tribes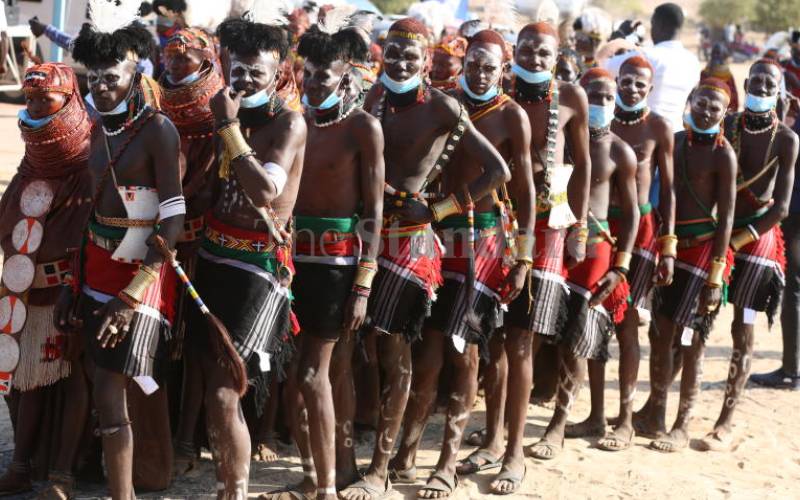 The rich heritage of Turkana and its neighbouring communities was on full display at the just concluded Tobong'u Lore cultural festival.
The pastoral communities who share common features and language under the Ateker cluster are drawn from Kenya, Uganda, South Sudan and Ethiopia.
On Wednesday, the eve of the three-day festival, they trooped in their numbers to Lodwar town, then to Ekaales Centre, the venue of the event.
And for the past three days, Ekaales Centre, located some five kilometres from Lodwar's Central Business District (CBD) was electrifying and was the centre of attraction when the fete started.
Despite the scorching heat, visitors from all regions of the country thronged the centre for the cultural fete that also markets the country in terms of tourism.
Tobong'u Lore, which came to a close on Saturday, was the sixth edition, and according to residents, it lived up to its name, which means "welcome back home" in the Turkana language.
Clad in their traditional ornaments and attire, dancers from the neighbouring nations displayed their diverse cultures. The festival failed to take off last year due to Covid-19 that led to restrictions to contain its spread.
Tobong'u Lore is hosted by Turkana County annually. It brings together the Ateker communities to showcase their cultures – food, dressing, cultural practices, among others. The festival aims to foster cohesion in a region that has been riddled with conflict due to cattle rustling and competition for scarce resources in the arid and semi-arid lands (ASALs).
The Ateker communities comprise Turkana of Kenya, the Jie and Karamoja of Uganda, the Toposa of Southern Sudan and the Nyangatom of Ethiopia.
On display at the cultural fete were Ateker's magnificent traditional regalia, traditional foods, songs and riveting dances. In their cultures, the traditional regalia is significant.
Elders and special guests adorned headgear decorated with ostrich feathers to show their highly regarded role in society.
The colourful dressing also helps in distinguishing men who have undergone Turkana initiation rites called asapan, a traditional practice that marks one's transformation from childhood to adulthood, from those who have not.
Men who have not passed through the rite do not wear the headgear.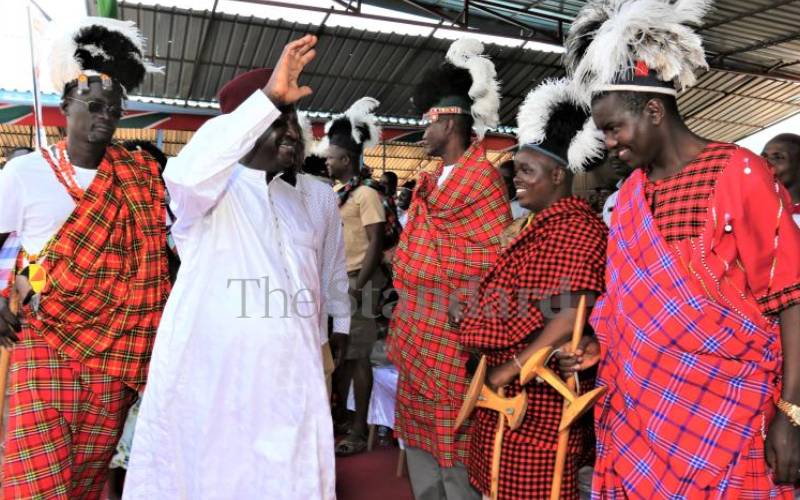 Among the women, the married ones have coloured bracelets (alagama) and bangles. Men are not allowed to do traditional marriage before undergoing asapan.
At the food section, traditional Turkana delicacies such as nangaria, edodo, auwa, ngamormoru were on display. Wild fruits, including edome, edapal, engomo, engol among several others were also exhibited.
These are some of the traditions that the communities hold steadfast. They each have a way of teaching their cultures to their youth and the event brings the diversity to be showcased in the annual event.
Historically, the communities have been engaging in fierce fights related to cattle theft, a practice that has been on the decline for the last seven years after the Tobong'u Lore festival was started.
The reduction in cases of cross-border banditry attacks have been attributed to the annual cultural event since it helps to build peace and coexistence.
Songs, dances, speeches and traditional prayers were in line with the 2021 edition's theme, 'Celebration of culture to foster peace, cohesion and development'.
There was also a group of Burundian refugees, who thrilled exhilarated crowds with their captivating peace songs.
Some of their songs emphasised the development of northern Kenya, where a majority of pastoralist communities live.
Memories of the devastating drought and hunger that hit Turkana this year as well as the floods that swept through the vast county last year faded and in its place were celebrations in a ceremony that ushered in a melting pot of cultures.
Traditional dancers from Kochodin, Turkana East, presented potu emorikinos, which loosely means "let us come together".
Groups of Jie/Karamoja dancers, for example, sang kitamunit etal kosi – which means "we remember our culture and values".
Other songs for different occasions such as bumper harvests, spirituality, praise for deity for rains, and songs seeking god for mitigation of droughts dominated the fete.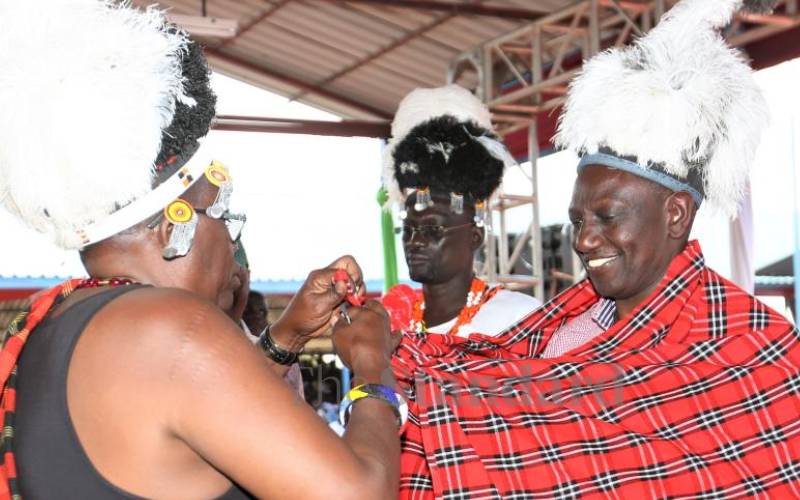 Kalenjin dancers from the North Rift region were not left behind. They unleashed a spiritual tune titled kiptayat, which means God.
A Turkana elder, Emoru Lomodo, closed the fete with a powerful prayer for peace. Lomodo also prayed for the end of diseases, particularly Covid-19 that disrupted economic activities last and this year.
"We pray to God to bring peace among our neighbouring communities. We ask him to give us rainfall so that we enjoy the plenty within our region. May deadly diseases go away," the elder said in his prayer.
As the celebrations for peace continued, businesses in Lodwar, especially in hotels, clubs and entertainment joints, were reaping big from the influx of visitors to the town.
The region that was marginalised for long turns out to be a central point for visitors from all regions attracted by Tobong'u Lore.
A club owner, Abraham Losinyen, who owns The Marble, a nightclub, bar and restaurant, said business boomed.
"Sales doubled and we are happy. We hope that guests will stay for one or two more days to enjoy the good that Lodwar can offer," Losinyen said.
He said he had invited an artiste from Tanzania to entertain guests but Tobong'u Lore was more fulfilling for those who booked rooms at The Marble.