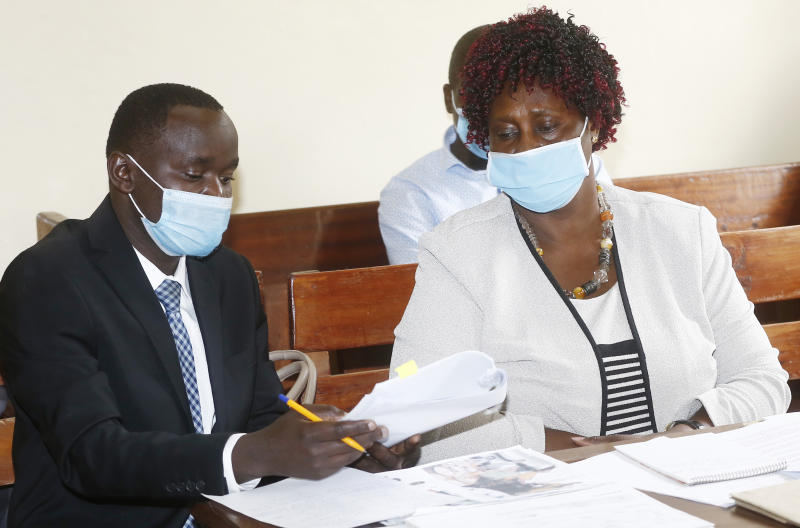 A woman claiming to be a widow of Nakuru businessman Washington Olweny failed to turn up for a DNA test as ordered by a court.
Lawyer Wilfred Lusi told a Nakuru court on Monday that Norah Atieno did not go to the Government Chemist in Nakuru with her son John Kevin Odhiambo, 22, despite an order for the two to undergo the test for proof of paternity.
Lusi and Diana Gichuru are representing Phelisia Akoth, Olweny's first wife, a petitioner in the Sh200 million inheritance case.
Akoth believes that Atieno, the alleged second wife of Olweny, is not Odhiambo's mother.
During cross-examination on June 21, 2021, Ms Gichuru challenged Atieno to undergo the DNA test and prove that Odhiambo was her son. Atieno did not object.
On August 16, Justice Teresia Matheka ordered for the DNA test to be conducted within 30 days and asked Akoth to organise and pay for the test.
On Monday when the case came up for compliance, 76 days had lapsed. However, Lusi insisted that Atieno was reluctant to undergo the test
"We undertook to do the DNA test and we were willing to pay for it. However, we have received very little co-operation from the objector," said Lusi.
Lusi asked the court to direct Atieno and Odhiambo to go to the Government Chemist on Thursday at 10.30am.
"In default, the objector should be ordered to appear in court within seven days and explain why she hasn't complied, because we believe that she is attempting to run away from the court orders," said Lusi.
Justice Matheka asked Atieno's lawyer Steve Biko why Atieno hadn't complied with the orders of the court but he could not offer an explanation.
Instead, Biko said: "I will not answer that question today because it is an ambush question. I cannot comment anymore on the matter."
He said he was not served with a mention notice requiring him and Atieno to be in court on Monday.
"Owing to abrupt presence of this court, I want the matter to be marked out of the proceedings lists and appropriate date set for me to respond," said Biko.
Matheka directed the parties to appear before her on November 15, 2021 for hearing.
Atieno wants a share of the Sh200 million property left behind by the late businessman. She also insists that she is the mother of Odhiambo, a son she allegedly sired with Olweny.
Atieno, Akoth and Anne Wanjiru have been battling for the share and control of Olweny's property since he died intestate on November 28, 2016.
Akoth insists that Odhiambo is not a child born out of the intimate affair between Atieno and Olweny.
The issue emerged after Atieno failed to give crucial details on Odhiambo, including the exact date and month of his birth.
"My son was born in late 1999, past June but I am not sure of the day," Atieno said in court.
She contradicted herself when she said that she gave birth to Odhiambo in a hospital in Nairobi only to later claim that she delivered by the roadside on her way to Nairobi.
Allan Onyango, Akoth's son moved to court to lock out Atieno and Wanjiru from his father's properties.