Widow produces 16 photos as proof she married tycoon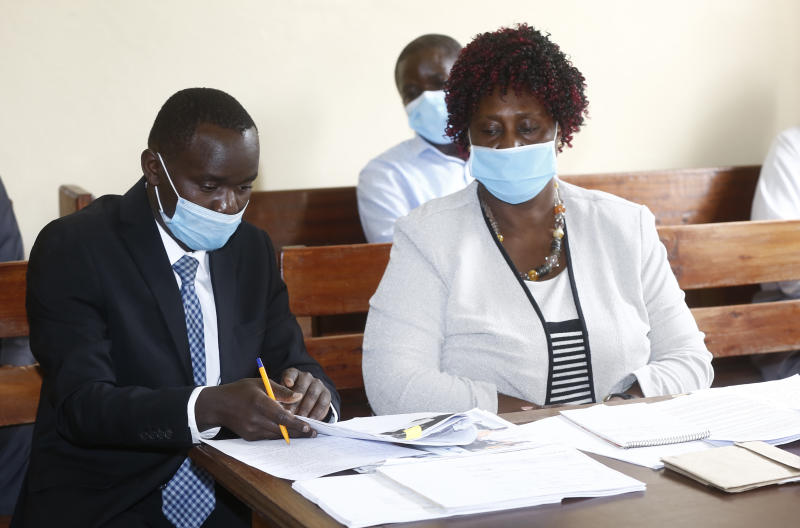 Sixteen photographs of a woman, her children and a businessman who died in 2016, will form part of the evidence in a succession case involving three women.
Ms Norah Atieno, Ms Phelisia Akoth and Ms Anne Wanjiru, widows of Nakuru-based Washington Olweny, are seeking a share of the Sh200 million he left behind.
Olweny, who was the director of Evans Sunrise Hospital, died without a will.
On Monday, Justice Teresia Matheka admitted as evidence the photos dating back to 1995 to prove Atieno was legally married to Olweny.
Last week, the judge allowed Atieno to produce 28 photographs but she only produced 16. She said images of people in some of the photos were not clear enough.
Atieno produced two photos of her with her children, mother-in-law, Olweny and his brothers said to have been taken at their house in Milimani Estate in Nakuru. "In the second photograph, I'm seen with Olweny outside our house during the lunch meeting with family," she said.
Another photograph was allegedly taken in 1996 during a family retreat at Hell's Gate in Naivasha, Nakuru County.
Still, another was reportedly taken in 1999 when she and Olweny were attending a baptism ceremony as godparents for their friend's child.
"We could not have been recognised as godparents in a baptism celebration if we were not legally married," she said.
Another photo, said to have been taken during a family outing in Nairobi had all her five children, Olweny and her.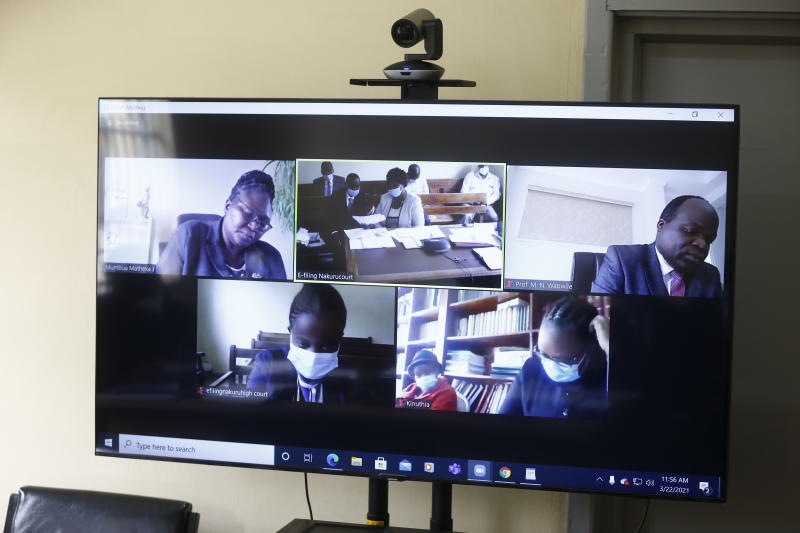 "This photograph was taken at Ole Sereni Hotel Nairobi in 2006. We'd decided to do a party for my last born son who was about to sit his Standard Seven exams," said Atieno.
She also produced photos taken during the graduation of her daughter Linda Akinyi at the Moi University. In the photo, Akinyi is seen feeding a cake to the late Olweny.
Atieno produced photos taken during the wedding of her firstborn Lavendah Amondi on April 25, 2008 at All Saints' Cathedral. In the photographs, she identified herself, Olweny, Pastor John Mark, her daughter and Francis Odhiambo, Olweny's elder brother.
"It is clear Olweny was holding my daughter's hand as he walked her down the aisle. In the last photo, he is holding my hand and my daughter's," she testified.
During cross-examination, Atieno denied having been married to one George Odhiambo, the father of three of her children. They had been together for 11 years. She informed court that Odhiambo failed to pay her bride price as required by the Luo culture, thus they were just cohabiting.
"Once Olweny paid the dowry in 1993, we were officially married and he took over the children as his own. He had all the rights," she said.
Atieno, a former clerk at the Kenya Breweries, said they met at a function in 1990. By then, Olweny was the chairman of a political party.
She said her father could not have accepted bride price from Olweny if she was married to another person. "The culture couldn't have allowed it."
In Olweny's eulogy seen by The Standard, Atieno was listed as Olweny's second wife. Akoth and Wanjiru were named as the first and third wife respectively.
Atieno said she entered into a customary marriage with Olweny on February 3, 1993. "I went to Olweny's house in 1992 with three children who were minors by then. I later got two children with the deceased," she testified.
She also said she lived together with Akoth as co-wives for over six years.
"The deceased took me in his house in 1998. We shared the same compound with Akoth in our home in Sikinga Ondiek in Ugenya until 2004 when I was moved to my own compound, which was opposite Akoth's," she said.
Allan Onyango, Akoth's son, moved to court after his father's death seeking to lock Atieno and Wanjiru out of his father's estate.
Onyango wants the High Court to declare that Olweny was only legally married to Akoth in a monogamous Christian marriage in 1966, and kick the two out of his properties.
Atieno's cross-examination will continue on May 25 and 31.