Reformed bandit found dead two days after abduction at Kerio Valley bar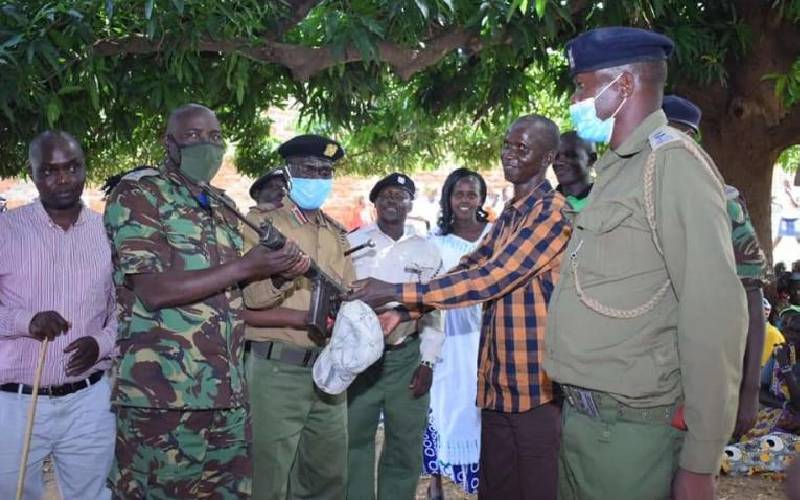 A man who surrendered his firearm after quitting banditry in the volatile Kerio Valley has been found dead, two days after he was allegedly abducted.
Residents discovered the body of Daniel Tarus, alias Ngaile, on the bank of the crocodile-infested River Kerio, on Sunday.
Tarus is said to have been picked up by unknown men from a bar near Tot in Endo, Marakwet East, on Friday. His alleged abductors, whose identities are yet to be known, are said to have roughed him up before blindfolding and forcing him into a waiting car.
Those who found the body said it had injuries in the head, chest, and abdomen. They said they suspect the injuries to be bullet wounds.
Four months ago, a video and photos of Tarus surrendering an AK47 rifle to police officers in Kerio Valley made rounds on social media.
In the video, the late Tarus was heard saying he had shunned banditry and that he was a reformed cattle rustler. Tarus said he was ready to work with security agencies to end the menace that has rocked Kerio Valley for decades.
Tarus had taken advantage of an amnesty the government had given bandits to surrender his illegal firearms.
It was during that event that he confessed he had been engaging in cattle rustling.
Tarus was the only bandit who confessed, surrendered and asked for forgiveness in public.
From the video, Elgeyo Marakwet Deputy Governor Wisley Rotich and local chiefs are seen witnessing the handing over of illegal firearms to police officers by Tarus.
"When you commit a crime and go into hiding, you become like an animal. But when you come out to confess and seek forgiveness from authorities and residents, you are forgiven," the late Tarus said then.
He continued: "It is only the government that is allowed to own guns. I urge anyone in possession of an illegal gun to surrender it. I am ready to work with the government by sharing crucial information that will help in the fight against banditry."
"I thank the government and residents (of Kerio Valley) for forgiving me," Tarus further said.
Some residents said Tarus has been a champion of peace in the region since he quit banditry.
They said he had started reforming other youth engaging in banditry in Marakwet East and beyond.
By the time of his death, a resident Emmanuel Kipkosgei said, he had started reaching out to youth in neighbouring Baringo and West Pokot counties with a view of convincing those engaged in banditry and cattle rustling to stop the vices.
A patron who said they witnessed the abduction said four men stormed Soko Bora Resort near Tot trading centre and roughed Tarus up before bundling him in a waiting vehicle during the 10pm incident on Friday.
"The men asked everyone to surrender their mobile phones. They later blindfolded Tarus. They appeared to me like police officers in plain clothes. Patrons were so scared that they didn't even get the chance to record the registration number of the vehicle. The vehicle sped off towards Arror in Marakwet West," the patron said.
The reformed bandit's death drew the ire of residents and local leaders who called for speedy investigations and arrest of culprits.
Rotich condemned the killing and asked security agencies to investigate the abduction of Tarus and his subsequent death.
Residents of Kerio Valley feel Tarus was killed and they want to know why, if indeed that is the case, Rotich said.
"It is shocking, beyond comprehension, that they chose to kill a reformed person who had surrendered his illegal firearm in our presence. If he was a criminal, then he should have been arraigned in court," Rotich said.
He continued: "I urge the community to remain calm and embrace peace as we seek answers to their questions and justice for Tarus and his family."
Nominated MCA Neddy Kiptoo who comes from the area said: "This is a man who surrendered following amnesty by the government."
Security agencies remained mum on the matter.
Elgeyo Marakwet police commander Patrick Lumumba said he was in meetings and could not, therefore, comment on the issue.