Andrew Kiptoon: Moi-era roads minister laid to rest in Baringo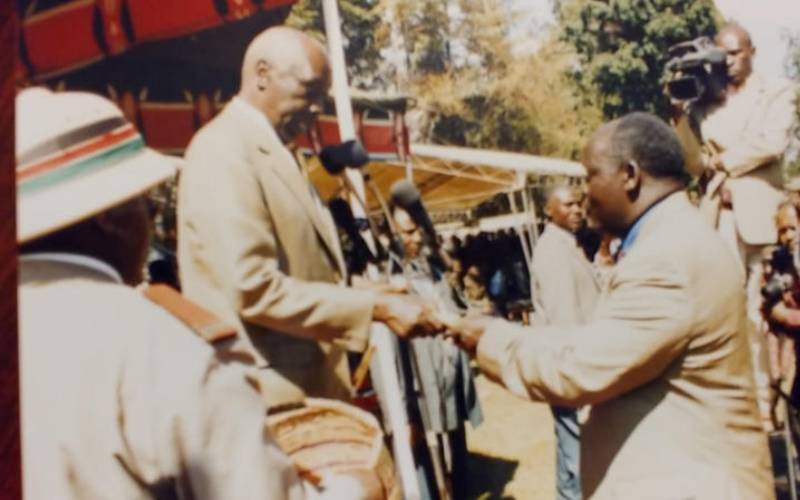 Elected leaders, elders, professionals and villagers converged at Kaptere in Baringo County to give former cabinet minister Andrew Kiptoon a befitting send-off.
Kiptoon, who died on October 2 at a Nakuru hospital, was credited for streamlining the roads ministry during the reign of the late President Daniel Moi.
Yesterday, mourners from the county eulogized the late Kiptoon as a son who made them proud through his leadership and achievements at the national level.
Leaders present at the funeral were Labour Cabinet Secretary Simon Chelugui, Principal Secretary State Department for Wildlife in the Ministry of Tourism and Wildlife Fred Segor, former Baringo Governor Benjamin Cheboi, Eldama Ravine MP Moses Lessonet and Baringo North MP William Cheptumo.
North Rift Economic Block chairman Joseph Makilap, Baringo Woman Representative Gladwell Cheruiyot were also among the leaders who attended the funeral.
Chelugui recalled how Kiptoon supported the community through education and offering jobs to university graduates.
"He worked hard to ensure that children from this community get education and jobs in state institutions. The presence of many of you here is testimony that Kiptoon played a role in this society," Cheligui said.
Moving tributes poured in as family, friends, and relatives paid their last respect to a man described as a hero.
To the family and neighbours, Kiptoon was not only a father but a leader.
"We will not forget him. The dairy sector is now big and enormous," said Managing Director Kenya Dairy Board Margaret Kibogi.
Kibiogi said that it was through Kiptoon's intervention as the board chairperson that the sector grew.
His son, Gilbert Kiptoon, said he would never forget the courageous man his father was.
He recalled in 2007 how at the height of the post-election violence, he drove with his father from Kabarnet through Eldoret to Nairobi.
"You told me that it is only cowards who die many times. Without any weapons or security, we drove over mounted roadblocks. Your ability to stay calm in the most awkward of situations was a great motivation to me. Your generosity to those in need even when you over-exerted yourself still baffles me," said Gilbert.
He said his father turned down a Sh77 million bribe from a contractor and expressed no regrets.
"You abhorred corruption in any form. I will do my utmost to inculcate it in your grandson," he said.
Gilbert revealed his father rarely attended the prize-giving days when he occasionally came top in his class.
He said his father would always remind him that getting to the top was easy but staying there was a real challenge.
"You would always promise to attend the next prize giving day if I retained the top position, which was an extreme motivation," he said.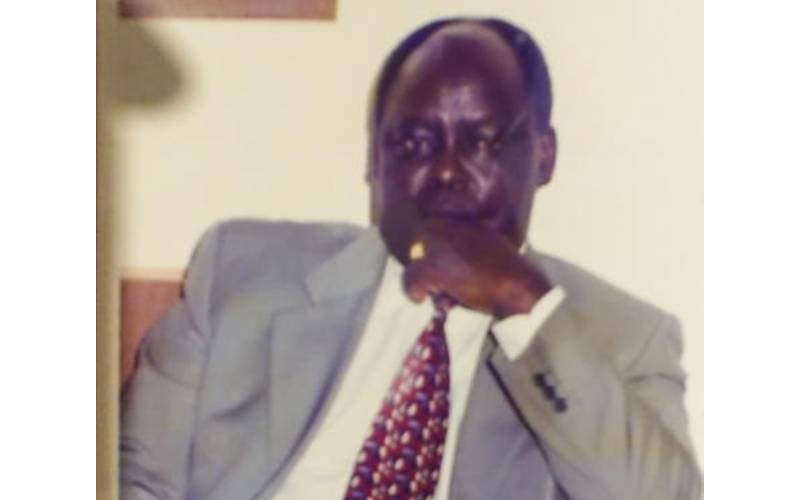 Elima Siokwei, the widow, said Kiptoon's death took her by surprise. "Your death turned my world dark."
She recalled the good old days when they used to travel together over the weekends.
His daughter, Gladwell Naegu, eulogized her father as loving and extremely caring.
Caroline Kiptanui, his other daughter, said her father was an easy man.
Nathan Kiptum, the son, described his late father as a wind in his sails on the stormy sea of life.
The late Kiptoon served as the Minister for Roads and Public Works for two and half years from 1998 to 2000. He also served as Baringo North MP between 1997 and 2002.
As minister for roads, he created policies that created Kenya Urban Roads Authority, Kenya National Highway Authority and Kenya Rural Roads Authority.
His signature legislation idea was that five per cent of all revenues collected by the Government through the fuel levy be shared equally amongst all the constituencies in Kenya for road maintenance.
The legislation changed road maintenance in Kenya, which had been the preserve of the National Government at the time.
Before he was sacked from his Cabinet position, Kiptoon was pushing for the implementation of the Roads Board Bill. The bill was supposed to transfer management of the fuel levy to districts under the supervision of elected leaders.
This led to a falling out with powerful people who wanted their private companies to win tenders for road repairs and construction. He was also determined to streamline the dilapidated roads sector by blacklisting contractors who did shoddy work.
The axe fell on him after persistent lobbying and prodding by influential contractors who were in business with powerful government officials.
Kiptoon was among people who suggested that the six-year-old skeleton discovered in Baringo North be given the name Arrorin Tugenensis.
He was a director in Kenya Airways between 1980-1983, Director Kenya Wine ltd between 1990-1994 and Chairman of the Kenya Dairy Board from 1993 to 1996.
He served as an Assistant Minister for Education for three months and was subsequently appointed Minister for Science Information and Technology.
In 2002-2007, he served as Kenya's permanent representative to United Nations Environment Programme (UNEP).
He concurrently served as the Chairman of Egerton University Council from 2002 to 2004.
He was fiercely independent, abhorred corruption in any form, and was known not to be a sycophant.
As a professional engineer, his landmark buildings include the Teleposta Building, Post Bank Towers, Ukulima co-operative plaza and the Narok post office, which he completed in the design of a Maasai Manyatta in Narok town.
He is credited with liberalizing the Kenyan dairy sector when he was the chairman of the Kenya Dairy Board, which licensed private entries such as Delamare dairies, Githunguri Dairies, Kwale Dairies, Molo dairies and Brookside Dairies.
He will be remembered for implementing reforms that enabled notches to be put in all milk packets for the Blind to know which side of the packet was to be opened.
As minister for trade, he created standards that gave all products manufactured in Kenya to have the suffix 616.