Dejected and rejected: Straight from prison but family doesn't want you around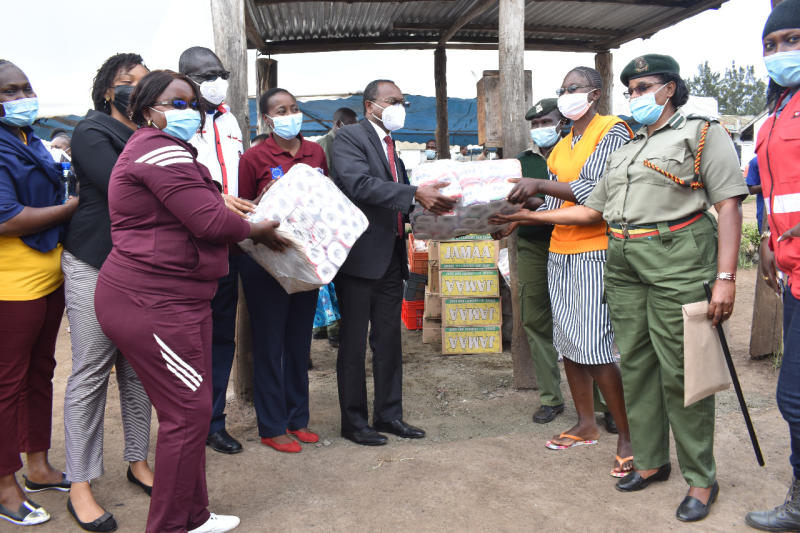 Nine years ago, Knight Makungo, 32, was jailed for 20 years for defilement. Makungo knew her life had come to an end when she was locked up at Nakuru Women's Prisons on July 2, 2013, for defiling a 13-year-old boy. The decision left her family devastated and stigmatised.
Speaking to The Standard when Court Users Committee visited Nakuru Prisons on Friday, Makungo said her children paid the price for her crime.
"They were secluded because of my actions that were considered taboo. My firstborn was then nine years and was left to care for my other two children," she says.
Her community, she says, did not want to be associated with her. Beside her children, no relative has visited her in prison.
Stop children
"I had to stop my children from visiting me because of the ridicule they were subjected to for being related to me," she says.
Nine years later, Makungo says she has reformed and acquired skills in tailoring.
"I am also a catechist of the Adventist Church. I lead fellow inmates in Bible study services," she says, adding that she needs acceptance and forgiveness from her community once released. "It is painful to be rejected. I will be out of prison soon and all I need is support," she said.
She says she is aware that her actions were uncalled for and is worried about her children, who always looked bothered when they visited her. "I always wonder what they think of me whenever they see me," she says.
Michael Kamau, sentenced to life imprisonment for robbery with violence, says his family has neglected him. Nobody had visited him since he was imprisoned in 2005.
"I can count the number of times I have seen my family in the last 16 years," he says.
Kamau, 37, says he was only 21 when he committed the offence, but he is now mature. "Some people are in prison, but they have not committed any crime. The fact that we are in prison does not make us worse than others," he says.
Kamau regrets his actions, and he is hopeful that his sentence will be reduced.
"I want to mend my relationship with my family because I will need them if I ever leave prison," he says.
Joel Mbari is a former inmate. He was in prison for 22 years for robbery with violence before being released in 2019. But he has does not feel accepted back in his community of Elburgon, Nakuru County, as a reformed man.
Mbari says it is difficult to prove that he has changed, as his neighbours still view him as a dangerous man who may turn on them.
He only survives because of his carpentry work that puts food on the table and is worried that other former inmates may not be as strong as he is. "We need support because we suffer from trauma after being in prison for long. Some of us lose hope," he said.
Nakuru Presiding Judge Joel Ngugi says prisoners are human beings and should not be neglected.
He says prison is a correctional facility, and inmates do change. He says the purpose of the visit is to show inmates that they are human beings.
"We are planning on decongesting the prison from 1,600 to about 1,000. That means that we may release prisoners. It is up to the community to accept them once released," he told The Standard.
Abdala Mohammed, in charge of men prison, has urged Ngugi to consider ailing inmates, petty offenders and those who have been in prison for long for freeing.
He says some of the neglected prisoners tend to be suicidal, angry and violent towards other prisoners.
He has also called for counselling programmes for former prisoners, noting that some of them go back to committing crimes for lack of support.
A July 7, 2020 report by the International Journal of Health Sciences and Research stated that prisoners with mental disorders were more likely to break the law.
Mental disorders
Out of 364 prisoners surveyed, 230 manifested mental disorders, with women inmates leading.
The report showed that prisoners were more likely to suffer depression at 34 per cent (125/364), be suicidal at 22 per cent (80/364) and mood disorders with psychotic features at 17.3 per cent (63/364).
A 2019 report by Kenya National Commission on Human Rights (KNCHR) states that being isolated from society, prisoners are practically deprived of mental health services.
The report notes that Kenya is yet to attain the realisation of the highest attainable standards of health as provided for in the Constitution.
"The healthcare industry in Kenya has disproportional funding allocation and insufficient medical personnel and equipment," reads the report.
The report also suggests that newly admitted inmates are not given thorough medical examination at the time of admission.
The report urges the government to develop policies and strategies that address the needs of vulnerable group in prisons.