Blow as Nakuru doctor who would have shed light on two murders dies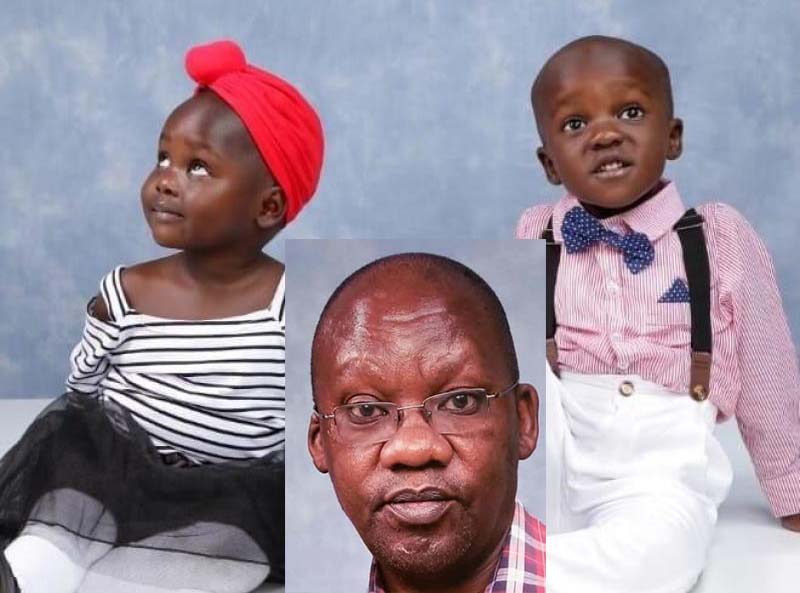 At 9am yesterday, the waves on a heart machine next to James Gakara's bed in the intensive care unit flatlined as he took his last breath.
Dr Gakara, 54, the owner of Optimum Current Health Care Hospital, had been at Nakuru Level Five Hospital since Saturday night.
He was rescued from his Milimani Apartments house at around 10.30p.m. where the police found him lying in his bed, unconscious. His two children were already dead in their bedroom.
At the hospital yesterday, family and friends broke down as his body was removed to PNN Funeral Home where the bodies of his children, Dylan Gakara, 5, and Hailey Karuana, 3, are lying.
This happened as his wife, Winnie Odhiambo, who is a clinical officer at Langalanga Sub-County Hospital, was for the second time this week admitted to the high dependency unit suffering from shock.
According to a Mr Njoroge, who said he was Gakara's bestman during his wedding in 2015, doctors told them that Gakara's blood sugar level had dropped significantly during treatment.
"Some medication had to be sought from Nairobi to manage his blood sugar level but it proved difficult. He was in ICU all through," said Njoroge.
Police had said that during a search of Gakara's house, they found vials of insulin.
"We found assorted types of drugs in the house and freshly used syringes. We suspect that the children were injected or made to ingest the drugs. He, too, may have injected himself with the same drugs," said Nakuru County Police Commander Beatrice Kiraguri.
Njoroge said Gakara was a jovial person and had visited him days before the weekend tragedy.
"He came to my house with his wife and children on Thursday. We had dinner and they were all happy. We discussed our future plans in our respective ventures.
"He was a man who loved his wife and children. Whatever happened thereafter I don't understand. It is something we would all wish to know," said Njoroge.
The friend said that on Saturday, Gakara had attended to patients at his hospital located in Nakuru's Section 58 estate. He then left for his house in Milimani where he joined his children and house-help.
"He called his wife for suggestions on where to take the children for a treat. He sent the house girl to their other home in Mbaruk to buy food and prepare dinner," said Njoroge.
He added that patients seeking Gakara's services resorted to calling his wife, who was not at home, after they could not reach the doctor.
"His phone is never switched off. His wife got concerned after she received calls from clients who could not reach him. She sent a hospital employee to their home to check on him," said Njoroge.
After ringing the doorbell without answer, the employee spotted Gakara's spectacles on a table, which confirmed that he was inside.
"Gakara is always in glasses and there was no way he could have left without them. The family gave authority to the police to break into the house," said Njoroge.
Njoroge said that Gakara always sought to empower his wife to assist him in managing his hospital and attend to patients.
"It is Gakara who sought a vacancy for his wife at JKUAT. On Friday, he escorted his wife to the university for registration and came back to Nakuru."
Winnie's sister, Roseline Odhiambo, said the couple was in good terms and had plans for the weekend.
"From the last conversation between the two, they were to meet in Thika on Sunday. They didn't have any differences that we knew of," said Ms Odhiambo.
The family had planned to bury the two children at their Mbaruk home but news of the doctor's death threw their plans into disarray.
Speaking to The Standard, Ms Kiraguri said that results of samples collected from the children were yet to be released.
Gakara's death deals a blow to investigations. Police had earlier indicated that he had confessed to killing the children using a cocktail of drugs before attempting to take his own life.
"A post-mortem will be done on Gakara's body. Further samples shall be collected for analysis at the Government Chemist. Since he has died, the case file will be disposed of as a way of inquest," said Kiraguri.