Picking up pieces of life after two months of conflict in Laikipia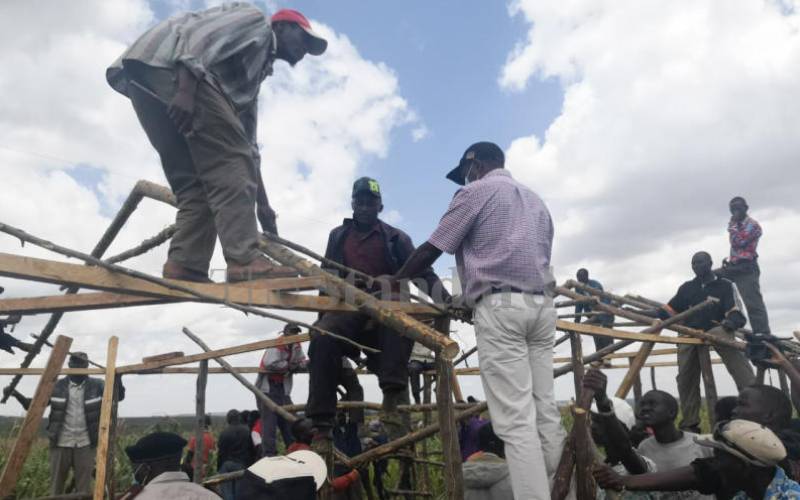 The beginning of a journey that the government believes will end the perennial skirmishes in Laikipia began yesterday.
This is after Interior Cabinet Secretary Fred Matiang'i made his second-day tour in the area during which he and Governor Ndiritu Muriithi broke ground for a new police division headquarters at Ol Moran township.
The ground-breaking of the station happened as residents of villages surrounding Ol Moran township began collecting pieces of their life back together after a conflict that has persisted for the past two months.
Residents yesterday experienced a night without the sound of gunshots from either the police or armed bandits that have denied them peace. "As the construction continues, we shall have 100 police officers attached to Ol Moran Police Station to boost security in the area. Patrols have been intensified as we continue to secure the disturbed zone," said Matiang'i.
The CS later supervised distribution of construction materials to families whose houses were torched by suspected bandits last week.
He later joined the families in the construction of their new houses under a programme jointly funded by the national government and county governments of Laikipia and Nakuru.
"We had 29 families whose homes were reduced to ashes. The government will construct a three-roomed house for each family which will also receive food rations," said Matiang'i.
As an uneasy calm was restored, there was a heavy security presence in the area including a lean team of soldiers from the Kenya Defence Forces (KDF). While assuring the residents of their security, the CS outlined the government's plan to ensure learning resumes by Monday.
Matiang'i said they had reached out to the Kenya National Union of Teachers and guaranteed them safety for teachers and learners.
"Each of the affected schools will be guarded by police officers at all times. Children and teachers will be escorted to and from their homes and school to guarantee their security," said Matiang'i.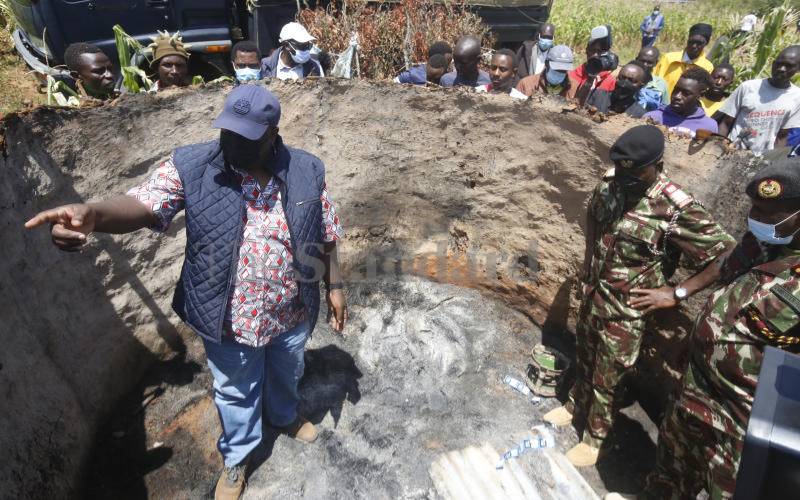 Governor Ndiritu said the county government had already repurposed a Sh20 million budget for the construction of the new police division headquarters. "This is just a start in getting a lasting solution for the skirmishes that have worked against our development plans for this area. We are committed to getting a long-term solution for this problem as we progress," said Ndiritu. At Kisii Ndogo village where 18 homes were burnt down, civilians could be seen for the first time in two weeks since the residents fled the area.
The Sunday Standard team caught up with Governor Ndiritu, who has since relocated his offices from Nanyuki to Ol Moran town, working with villagers to help Bernard Onchuro, a resident, to construct his new house.
"We are grateful that the government has come to our rescue and helped me restart my life. The attack was a great setback for me and my family. I have been forced to live in a single rental room with my wife and our five children," said Onchuro.
His new house will be the model for the rest of the families which will each have a three-roomed house. His home is however a stone's throw away from makeshift manyattas where suspected bandits had been residing before they attacked and fled the area.
During the construction, youth and armed National Police Reservists (NPRs) strategically positioned themselves to monitor any movements within the thickets. John Maoya, another resident said that though the houses are being constructed, it will take time for them to start living in them. "It is not safe yet. We lost all our household goods which may not be acquired through donations. Tension and fear is still high," said Maoya.