23-year-old househelp stranded in Abu Dhabi finally returns home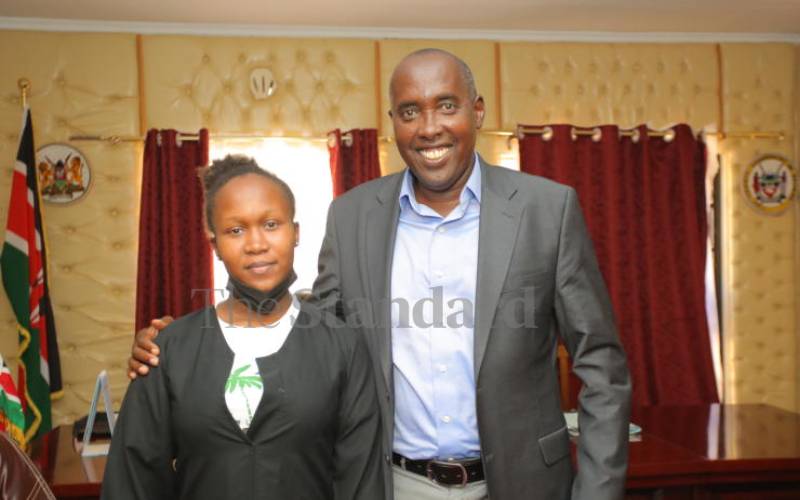 A woman who was detained in Abu Dhabi after her travel documents were confiscated by her rogue employer is safely back in Kenya.
It was an emotional reunion for the family of Lillian Rimanto, 23, from Inkariak Ronkena village in Oloitokitok after she landed in the country on Saturday aboard Etihad Airways.
Rimanto said she worked for two months as a house help for an Arab family in Alshamka, Abu Dhabi, before her stay became untenable due to mistreatment.
She fled from the home in December last year and sought refuge at a safe house where several Kenyans lived.
Eight months of anxiety, hunger and risk of arrest for the woman became unbearable forcing her aunt in Nairobi, Peninah Soila and elder sister to Lorna Lemaiyan to seek the help of the Kenyan government to bring her home.
When help was not forthcoming the family sought the intervention of Kajiado Governor Joseph ole Lenku.
"We had failed to get help from several government offices. We asked the governor to talk to a higher authority as we feared she would die in Abu Dhabi. It is very scary to sleep well when such a young girl has made a distress call," said Soila.
"You stay waiting for bad news. You have no idea the danger she is in and the only consolation you have is that you talk briefly on phone," said Lemaiyan.
Lenku was forced to fly to Dubai to meet diplomatic and immigration officials in UAE to help facilitate the return of Rimanto to Kenya.
The governor left the country on August 1 and returned on August 6 having met Kenya Ambassador to the UAE Kariuki Mugwe who worked to ensure Rimanto gets an outpass to facilitate her travel without a passport.
The family was unable to raise money for her air ticket forcing Lenku to pay for the same.
Upon arrival in Kenya on Rimanto said: "Am happy to be home. My life was at risk and the brutality I saw there is on another level. I was left alone and I feared for my life."
She said the governor's timely intervention saved her life. "I had a sim card that I used to communicate when I fled the home. Without it, I don't know how my family would have known I was in danger," said Rimanto.
Lenku said Rimanto would have made it in life had she not fallen for the wrong employer.
"We thank God that she is back in the arms of her family. We shall work together with them to ensure she recovers from the shock," said the governor.