Hospital denies refusing to treat patient who can't raise Sh55,000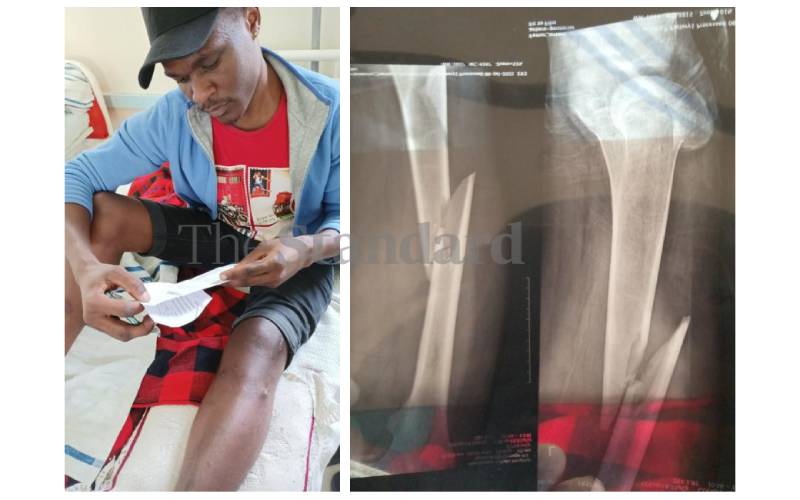 Rift Valley Provincial General Hospital has denied it has declined to attend to a 24-year-old man who cannot raise Sh55,000. Samson Nyakina claims he was admitted on July 6 and is yet to be treated after he failed to raise the amount so his broken leg can be fixed.
Nursing officer Wendy Tirop said an implant is needed to treat the patient, and that implants are normally paid for by patients themselves and not supplied by the hospital for free.
Nyakina said he was involved in a motorcycle accident in Embu in June. He says he sought medication and days later, the wounds healed.
He travelled back to his Nakuru home, but later, he started feeling pain and could not walk.
The university student said after a week, he accidentally slid at a bus station in Nairobi.
He was picked up by an ambulance and taken to Mama Lucy Kibaki Hospital.
He was then referred to Kenyatta National Hospital and later to Nakuru.
An X-ray done on his left leg indicates that Nyakina had suffered a fracture.
"I have been waiting for weeks. Medics always ask me whether I have paid the Sh55,000 to be attended to," Nyakina said.
But Tirop said the hospital cannot take the patient to the theatre without the implant.
Besides the Sh55,000 he is required to pay for his leg to be fixed, Nyakina has also accumulated a Sh63,180 bill for his stay at the hospital, which he has partially paid and has a pending bill of Sh34,180.
He claims the hospital management declined to allow him to transfer to another facility. "They also asked me to clear the medical bill."
Nyakina fears that he might develop other complications if not attended to.
Meshack Nyabuto, his father, said he could not raise the money. "I want my son to be treated as I continue to raise the funds. I am relying on well-wishers."
On Monday Medical Superintendent Aisha Maina asked for the details of the patient, which were forwarded to her.
Later, the nursing officer, Tirop, under the instructions of the Medical Superintendent, confirmed that the patient needed to be taken to the theatre.
Tirop claimed Nyabuto never went back to the facility to inform them that he did not have the money, until Sunday when he went to ask that his son be discharged.
She said if Nyakina pays the Sh55,000, he will be attended to and discharged within three days, and added that they cannot discharge the patient before he is treated.