8,667 to benefit from Sh60 million medical cover in Bomet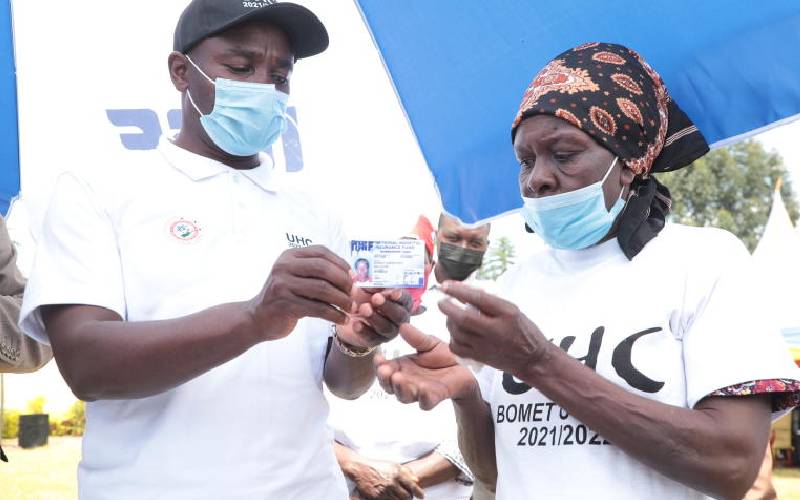 Grace Tesot,71, could not hide her joy after receiving the National Hospital Insurance Fund (NHIF) card courtesy of the Universal Health Coverage (UHC) programme in Bomet County.
Tesot, from Mogindo in Bomet Central, said she has always had to sell her property to meet medical expenses and was elated after receiving the medical cover.
The widow and guardian of more than five grandchildren said the rollout of the programme was timely for her.
She is among 8,667 vulnerable families in Bomet who can now breathe a sigh of relief after the county government rolled out the UHC.
The UHC takes off after a two-year delay following what the county government says was a cash flow challenge and lack of legal framework to implement the initiative by late Governor Dr Joyce Laboso.
Speaking while rolling out the cover, Bomet Governor Hillary Barchok said the programme launch was made to coincide with the second anniversary to commemorate the death of Laboso.
"We are honouring her by making true her wish that the vulnerable are supported to receive health cover so that every time they fall sick they do not sell their property to meet medical bills," said Barchok.
During her campaigns ahead of the 2017 General Election, UHC topped Dr Laboso's seven-point manifesto.
In an elaborate plan, Dr Laboso had planned to roll out a health cover for 10,000 vulnerable families.
To make true her pledge, Laboso in 2019 fundraised more than Sh60 million through a half marathon presided over by Deputy President William Ruto before being taken ill and succumbing to cancer.
Barchok defended himself from the accusation of allegedly grounding Laboso's plan during launch of the programme this week.
Laboso's husband Edwin Abonyo said his family was concerned with the delay, challenging Governor Barchok to protect Laboso's legacy by fulfilling all she had promised.
However, during the launch early this week at the county headquarters, Barchok said the delay was not his making.
He said he failed twice to kick-start the programme due to erratic cash flow from national government and lack of legal framework work.
"At one point, NHIF slapped the county government with a Sh30 million penalty after we missed last year to honour Sh5 million monthly contribution for the programme," he said.
He said the penalty pushed his administration back to the drawing board.
"After the penalty, we put in place measures to ensure all the funds are channelled to NHIF once a year to ensure that beneficiaries are not inconvenienced," he said.
The governor said he was relieved that the programme was finally up and running.