Calm returns to Kerio Valley after weeks of clashes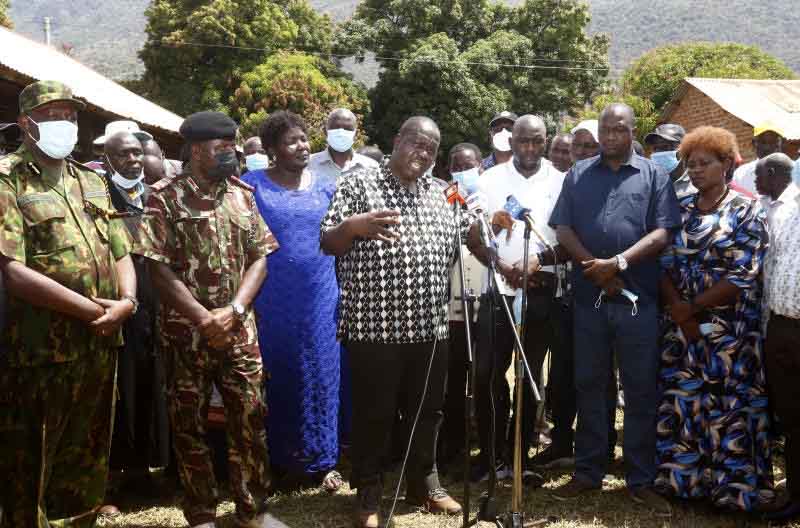 An uneasy calm is slowly returning to Kerio Valley following attacks between two communities that have left more than 17 people dead and scores injured.
Since 2015, the region has experienced sporadic clashes that have not only destabilised families, but also disrupted health, education, economic activities and service delivery.
In recent months, the region has been the centre of attacks, prompting Interior Cabinet Secretary Fred Matiang'i to hold a crisis security meeting at Tot, Elgeyo Marakwet.
For years, communities in the area have been caught up in the throes of cattle rustling and banditry that has over time morphed into sophisticated warfare.
Kerio Youth Association chairman Joel Kimaiyo argues that in the past, peace efforts led by area leaders have ensured peaceful existence between communities in the region. "We yearn for better days; the insecurity we are seeing now could not have existed if such mechanisms employed in the past could be used presently. Then, leaders ensured that they stayed in the area until all those responsible for the killings or theft were arrested," said Kimaiyo.
The most brutal attack, which is still etched in the minds of locals, occurred in March 2001 when armed militia raided Murkutwa location in Marakwet East at dawn and killed more than 50 people before setting their bodies ablaze.
And for a record 14 years, between 2002 and 2016, the region experienced some semblance of peace, which had been elusive for decades.
Among the interventions put then was breaking down boundaries between communities, establishing and reviving desolate border marketplaces as well as establishing social amenities to serve the two warring communities.
Also introduced was an alternative justice system with homegrown solutions. For instance, if a member of either community was killed, 40 cows were paid to the deceased's family and the person found guilty of stealing the cattle fined to pay five times the number of animals they had stolen in a traditional ritual (referred to as kekwer met).
Leaders would mobilise sub-county peace committees comprising elders, youth and church leaders, provincial administration and police with the help of Kenya Police Reservists to spearhead peace initiatives, thus helping in early crime detection and cementing cordial relationships.
Kolowa and Tot, in Baringo and Elgeyo Marakwet, respectively, which were popularly known as Kosovo in reference to the explosive former Yugoslavia region, are about 40km apart but were epicentres of fighting between the two communities were restored as trading centres.
Some notable leaders who have visited the area to establish how joint projects could be initiated to assist villagers live in peace and possibly shun cattle rustling are Gender CAS and former Marakwet East MP Linah Kilimo, former Sigor MP Philip Rotino and East Baringo, now Tiaty Constituency, former MP Asman Kamama. Another measure that was put in place, according to local resident David Chelanga, was an established bridge used by the communities commonly known as kalya (peace) bridge at Kolowa.
"The leaders jointly attended sapanas (thanksgiving ceremony in Pokot dialect) where they encouraged sharing of meals among the warring communities. During sapanas, the communities engaged in sharing grazing fields and watering points among other social activities, eventually fostering cohesion and diffusing hostilities," he said.
Common markets in Tot, Chesegon, Kolowa, Kilos, Chesetan and Arror were established as well as peace schools.
CAS Kilimo said they resolved to use traditional methods of conflict resolution by bringing together elders from the two communities.
"Cattle rustling was a major issue, and women from both communities were sensitised against encouraging their men to steal more livestock. Elders noted that when the raiders attack villages, it is women who suffer when their husbands are killed," Kilimo added.