Four killed as cattle rustlers raid Samburu village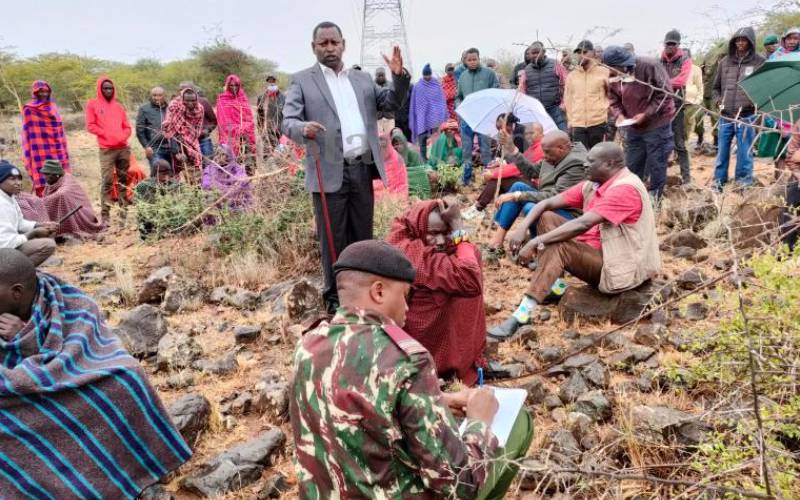 Tension is high in Samburu North Constituency following the killing of four people in two separate cuttle rustling incidents.
The cattle rustlers are said to have stolen more than 500 heads of cattle.
Samburu County Commissioner Addrisac Jaldesa said security agencies have been deployed in the area to pursue the cattle rustlers believed to be from a neighbouring county.
"As a security committee, we want to ensure that cattle and goats are recovered," he said.
The first attack took place at Marti on Sunday where two herders were killed and several cattle were stolen. The second incident occurred at Baragoi in Samburu North where armed bandits killed two.
Mr Jaldesa said the bodies were moved to Samburu County Hospital in Maralal town.
Governor Moses Lenolkulal, Senator Steve Lelegwe, Mps Alois Lentoimaga (Samburu North), Maison Leshoomo (woman representative) and Jackson Lekumontare (Samburu East) attended the security meeting and later condoled with the bereaved families.
The leaders pleaded with the residents not to revenge and allow the police to pursue the suspects and recover the stolen animals. "We are urging our people to live in peace," Ms Leshoomo said.
Lenolkulal urged the government to ensure the families of the deceased herders find justice.
Mr Lentoimaga blamed police officers for failing to stop the crime. "Police officers deployed here have failed to ensure there is peace and cohesion in the region," he said.
Mr Lekumontare asked the government to move with speed to recover the stolen cattle. He said the incident had left families without food.