Teenager who went missing in March found living as street boy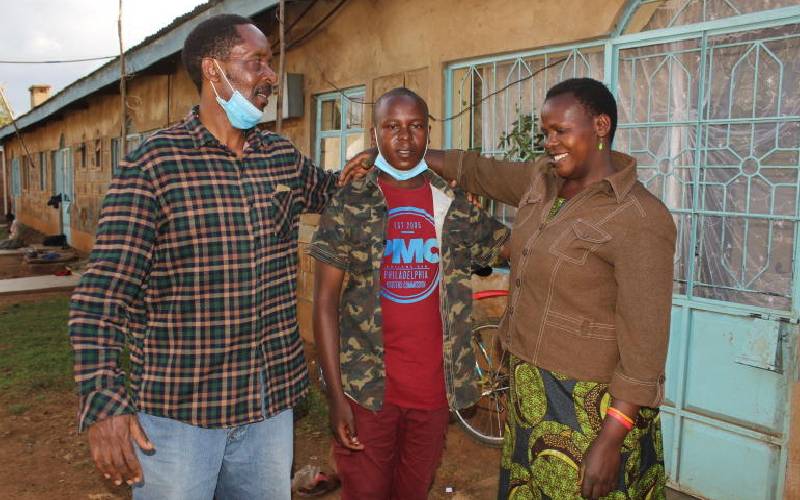 Two months ago, a 17-year-old boy walked out of his home in Eldoret never to return.
His distraught parents spent two months searching in mortuaries in Eldoret and as far as Nairobi.
Vala Mwisho left their home on a Wednesday afternoon, after lunch, occasioning weeks of anguish to his family.
The family imagined the worst had happened to him; that he had been killed or had joined a terrorist group.
Surprisingly, on Tuesday afternoon, the boy, a Form Two student at a school in Uasin Gishu, was found by his father, living with another street boy in Kisumu City.
A day before he was found, an unidentified caller informed the family that she had spotted a teenager who fitted the description of the missing boy in Kisumu.
Begging from shoppers
His father, Paul Matheka had combed all mortuaries and streets across the vast Rift Valley.
"It has been two and half months of mental torture for my family. We had lost hope of finding him alive. I went through all the mortuaries looking for him in vain," said Matheka.
The father says upon arrival in Kisumu, he didn't know where to begin the search as the caller didn't give more details on the boy's whereabouts.
"The caller hang up before telling me where she spotted my son in Kisumu. I suspect that she had seen my son's disappearance story on KTN and The Standard which was aired in April a few days after he went missing," he said.
Outside Tumaini Supermarket in Kisumu town, he spotted a group of street boys begging from shoppers leaving the retail outlet. They approached him as they did to other shoppers.
"The boys were intoxicated and when they approached me, one of them who looked like my son turned and attempted to run away. I walked faster past the boy, and shockingly it turned out to be my son," he said.
He continued: "At first, I thought it was a case of a look-alike because he was dirty and high on something and I didn't expect to find him alive. My son had changed. He was into drugs but when he spoke, I identified the voice, he was my son. I am glad he is alive."
Like the prodigal son in the Bible, his parents have welcomed him back home.