Yes, there was a party at Nanyuki Hospital, but it wasn't held on Tuesday: County health boss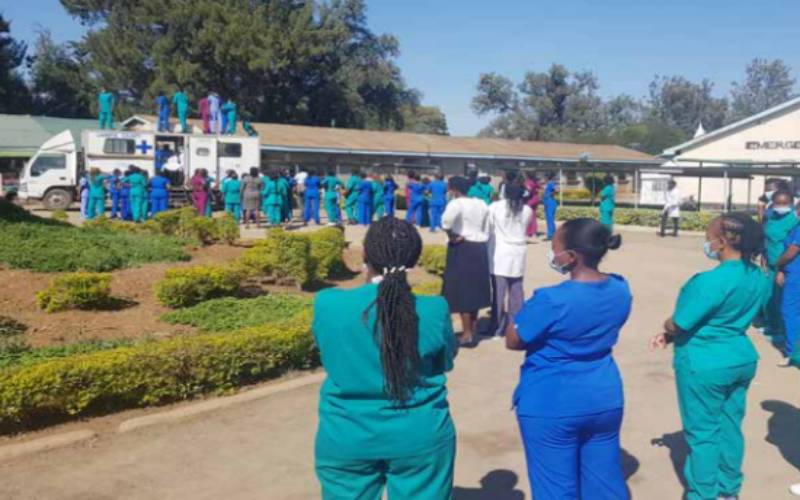 The Chief Officer for Health in Laikipia County, Dr. Donald Mugoi, now says a birthday party held by medics at the Nanyuki Teaching and Referral Hospital early this week was not to blame for a patient's death at the facility.
Dr. Mugoi said the 24-year-old patient died on Tuesday, June 1, while the party was held on Monday, May 31.
The patient, Jane Njoki, died of excessive bleeding, three weeks after developing postpartum complications.
Dr. Mugoi says, unlike Monday, when a 58-year-old woman died while the hospital's staff members were celebrating the birthday of one of their colleagues, Njoki's case was a death resulting from unavoidable causes.
"Njoki's case was not an incident, it was an event (sic)," he said, adding: "She had been on medication for one month, and had been referred to the Kenyatta National Hospital. We hear reports that she died of excessive bleeding. How could she have bled for one month while hospitalised at the Nanyuki Hospital?"
The county health boss claims the death of another patient, Halima Omar, which occurred on Monday, wasn't caused by negligence as has been reported.
"Two health workers of the referral hospital have since been interdicted. Their interdiction, however, is not related to the Monday birthday party. They were not at their workstations despite the roster showing they needed to be there," he said.
Dr. Mugoi claims they have reached Halima Omar's family to explain circumstances surrounding her death.
"We've planned to meet them so that we explain the cause of their mother's death," said Dr. Mugoi.
Ramadhan Omar told The Standard that his mother, Halima, died while they were waiting for laboratory staff members to return to their workstations after celebrating their colleague's birthday.
Halima suffered a stroke in March 2020. Ever since, she developed health complications thereafter, including high blood pressure.
On Monday 3pm, she was rushed to the Nanyuki Teaching and Referral Hospital by her husband and children for emergency treatment after complaining of a severe headache.
Her son, Ramadhan, told The Standard that upon reaching the hospital, they found the outpatient waiting bay crowded, with patients waiting to be attended to.
Halima was, consequently, taken to the emergency section.
The patient was, thereafter, referred to the laboratory for a series of medical tests.
At the laboratory, Ramadhan said he was asked to wait for five minutes before his mother could be attended to.
"The five minutes turned to 30, then an hour," said the fourth born in a family of six siblings.
Ramadhan said he could hear the medics, who had locked themselves in the laboratory, singing "happy birthday" for one of their colleagues.
Halima died at the waiting bay Monday evening before she could receive any lab services.
Laikipia Governor Ndiritu Muriithi said investigations into the deaths of Halima and Njoki have commenced, and that the findings would be communicated to the public as soon as the probe ends.
On Thursday, June 3, irate Nanyuki residents took to the streets to protest the alleged negligence by the hospital.
Yusuf Ustadh, a resident, alleged at least 15 people are to blame for the mess at the hospital.
"I had raised this issue in several formal forums, but no action has ever been taken," he claimed.
Another resident, Purity Kendi, alleged that another patient, a middle-aged woman, died at the hospital recently after failing to get blood for transfusion.