How an inmate used a sharpened spoon to kill colleague in Naivasha prison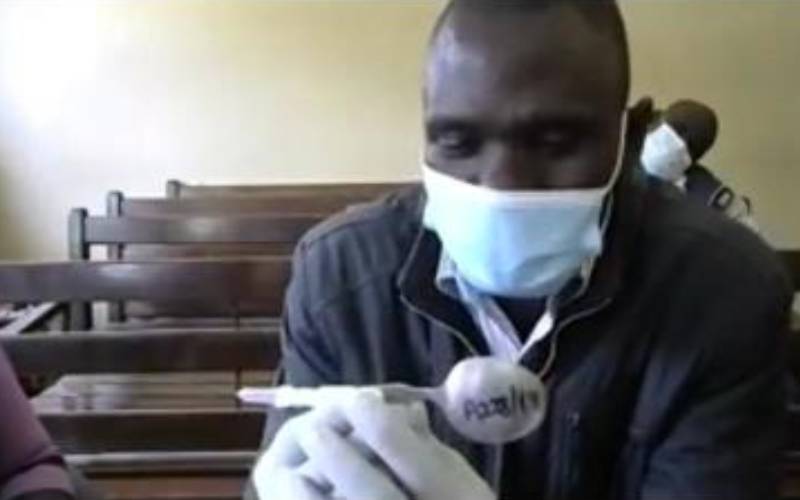 An inmate serving a life sentence at the Naivasha Maximum Prison used an improvised knife to kill his fellow inmate, prison warders testifying in the case told the court on Wednesday, May 20.
Before Justice Teresia Matheka of the Nakuru High Court, the warders testified that Victor Ochieng' used a sharpened spoon to stab the deceased.
Harun Karanja was stabbed to death on Wednesday, October 4, at around 11: 30 am, court records indicate.
Warder Detei Manzi said Ochieng' scuffled through the warders around the food serving point, got hold of Karanja and a fight between the two ensued.
"Ochieng' appeared from the exit end and attacked Karanja in a premeditated move," he explained.
According to warder Manzi, his intervention in the fight helped Karanja break free from Ochieng's hands and flee.
"Karanja ran and jumped over a wire [sic] to where Ugali was being served but Ochieng ran towards the exit," Manzi told the attentive court.
Another witness, Warder Vincent Kipyegon, testified that he saw Ochieng' use a sharp object, wrapped with a piece of blanket to stab Karanja twice on the chest.
He went on to say that as the inmates scampered for safety, Ochieng' came across another inmate, Douglas Maina, whom he also stabbed.
"As Ochieng' was running towards the prison block, he passed Karanja then turned back to stab him twice on the back before surrendering to the officer at the gate," Kipyegon explained to the court.
"Karanja's nose and mouth were oozing blood while Maina was lying down unconscious," another Warder, Sergeant Jacob Gitimu said.
The fourth witness to testify before Justice Matheka, Inspector Aroo Achuka, said he saw Ochieng stab Maina three times, about 10 metres from the gate as he was approaching the scene.
"When I got to the scene, I found Karanja unconscious beside the gate," he noted.
Inspector Achuka, an officer in charge of the prison that morning, revealed to the court that he discovered the weapon was a sharpened spoon after he (the suspect) surrendered.
The Inspector of police said the two were rushed to Naivasha District Hospital for treatment.
He went to say Karanja was pronounced dead on arrival, Maina survived and was later referred to Kenyatta National Hospital for further treatment.
The case is still in court with more witnesses expected to testify in the case among them experts and other inmates.
The hearing will proceed on October 26 and November 6, 9, and 16, 2021.