Sentence Jane Muthoni to death, the State urges court in husband murder case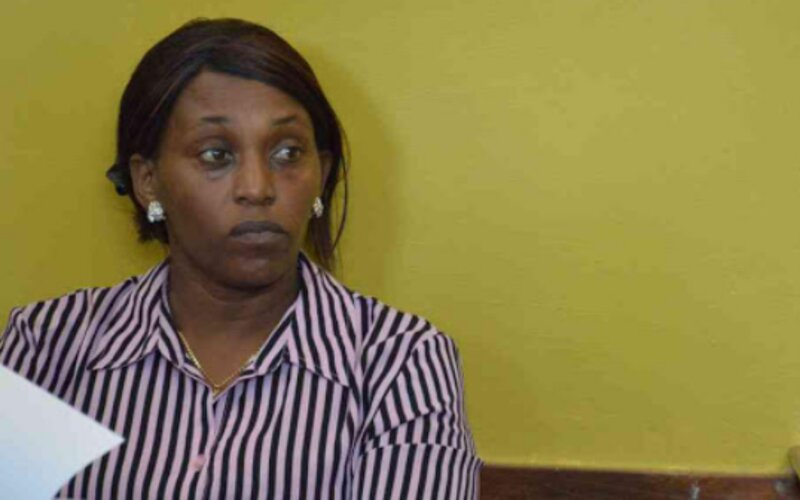 The Office of the Director of Public Prosecutions (ODPP) wants Jane Muthoni, who was found guilty of her husband's murder on April 22, sentenced to death.
Muthoni, alongside her co-accused Isaac Ng'ang'a, was declared guilty of Solomon Mwangi's murder, which occurred in November 2016.
State Prosecutor Catherine Mwaniki told the Nakuru High Court on Tuesday, May 18 that the crime committed by the two; and the manner in which the murder was executed, "deserves a severe punishment such as death sentence".
"This is a case that meets the threshold of a death penalty," said Mwaniki.
"We are looking at the seriousness of the acts that led to Solomon Mwangi's death. In our conclusion, we pray that this court finds that the element of the statutory premeditation was satisfied in this case," she submitted.
According to the prosecutor, her team proved beyond any reasonable doubt that there was "substantial orchestration and planning" of Mwangi's execution by Muthoni and Ng'ang'a.
"Mwangi's death was not caused by a spontaneous act of violence, or an act of self-defense by the accused," said Mwaniki, who proposed Muthoni and Ng'ang'a be sentenced to death.
Lawyer Wokabi Mathenge, who represented Solomon Mwangi's family in the case, reiterated the Prosecution's recommendation, terming Mwangi's killing as "Murder Most Foul".
"He was defenseless while being killed," said Mathenge.
The lawyer said Muthoni was yet to express any remorse to Mwangi's family over his murder.
"The first accused (Muthoni), being a teacher, was expected to impart ethics to learners. In this case, she was the mastermind of her husband's death. She, therefore, conducted herself in a manner not expected of a person of her stature," said Mathenge.
According to the lawyer, Mwangi's murder deprived his four children of fatherly love.
"We urge the court to find that a death sentence will suffice. Mwangi's death was premeditated and well-planned," he emphasised.
The accused's lawyer, Francis Njanja, however defended Muthoni and Ng'ang'a against death sentence, stating the two have cooperated with the courts thus far.
Njanja maintained that even though the courts found the duo guilty of murder, they were "still innocent".
Muthoni, who addressed the court via video conferencing, pleaded her innocence, saying her family had suffered throughout the period she's been in custody.
"I'm the only hope and surviving breadwinner in my family. My children are suffering, yet those who killed my husband are out there walking freely," she said.
Ng'ang'a, on his part, pleaded with the court to consider a lenient sentence on him.
Justice Joel Ngugi said the two persons will be sentenced on June 3, 2021.
How Mwangi's murder was planned
During the trial, the court heard that in early November 2016, Muthoni hired two men to kill her spouse, the principal of Kiru Boys' High School in Mathioya, Murang'a County. One of the hired killers was Muthoni's co-accused, Isaac Ng'ang'a. The other, Nelson Njiru, disappeared shortly after learning that Muthoni and Ng'ang'a were being hunted.
Muthoni had been directed to Ng'ang'a and Njiru by Joseph Kariuki, who turned into a Prosecution witness following a plea negotiation. Kariuki was, however, sentenced to seven years in jail for manslaughter.
Upon arrest in mid-November 2016, Muthoni and Ng'ang'a, alias Gikuyu, were charged with Solomon Mwangi's murder.
The court, through Kariuki, heard that Muthoni engineered her husband's killing after he allegedly kick-started a relationship with another woman, identified in court as MWK or M-Pesa Lady. The plan was to eliminate Mwangi's lover and then kill him, the court was told.
After four years in court, the case came to a close on Thursday, April 22, 2021, when Muthoni and Ng'ang'a were declared guilty of Mwangi's murder.
"The offence of murder is established against both the first and second accused persons (Muthoni and Ng'ang'a respectively). Consequently, I find and hold that both accused persons are guilty of the murder of the deceased. I hereby convict both of them accordingly," Justice Ngugi pronounced himself on the case.
In the ruling, the judge observed that Muthoni did not physically kill Mwangi, but "evidence demonstrated that she was the author of the plot".
Muthoni reportedly parted with Sh50,000 for Mwangi's killing, which was conducted by Ng'ang'a and another person not before the court Nelson Njiru. The hired killers strangled Mwangi to death on November 6, 2016, and dumped his body in Karakuta Coffee Estate in Juja, Kiambu County.
The court relied on 18 SMSs between Muthoni and Njiru, and 21 Prosecution witnesses to conclude that Muthoni had masterminded her husband's murder.