Woman brutalised by police for flouting curfew rules seeks justice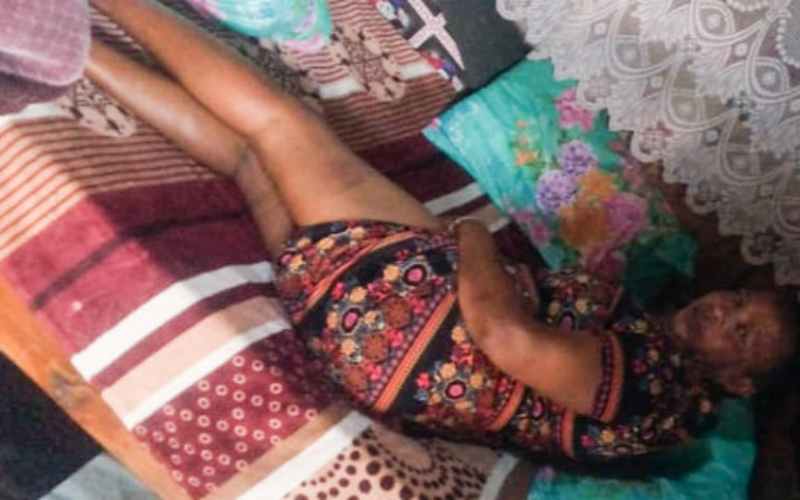 A senior police officer in Kuresoi South, Nakuru County is on spot for brutally assaulting a woman for allegedly flouting the 8 pm curfew rule.
Margaret Chelang'at, a mother of two accused Kiptagich Police Station OCS identified as Jones Maweu of assaulting her under the watch of another officer and chief.
"The officers were chasing a youth who sneaked into my compound. I found them at my gate alongside our chief. The OCS slapped me, saying it was already curfew time. While on the ground he whipped me with a power cable," said Chelang'at.
The officers and the chief are then said to have taken off from the area, leaving Chelang'at reeling in pain, only for her neighbours to come to her rescue.
Chelangat said that the assault was severe that it made her remain bedridden until April 17 when she managed to walk to a distant police station where her statement could be recorded.
"I have been sleeping on my belly since April 10 due to the severe bruises I suffered. I couldn't have my statement taken at Kiptagich since he was in charge. I have reported at Olenguruone Police Station under OB number 9/17/04/2021," said Chelang'at.
Chelang'at explained that the incident had brought shame to her, seeing that her neighbours take care of her from her bed.
"I couldn't do anything for myself. The assault has taken away my dignity. Am a single mother of two and my neighbours had to take care of me like a disabled person," said Chelang'at.
Chelang'at who received treatment at Olenguruone Sub County Hospital called on the National Police Service (NPS) to ensure that justice is served for her.
"It was a few minutes to 8 pm. Even if they considered me to have been late, assault is not among the ways to handle the case. The officer abused his powers bringing shame to the police service and should be treated as a criminal," said Chelang'at.
Kuresoi South Police Commander Henry Nyaranga confirmed the report, saying the woman had made an official complaint and investigations had commenced.
"The matter was reported to us and we are keen on the conduct of the accused officer. Stern action will be taken against anyone who will be found culpable of the assault," said Nyaranga.
He issued a stern warning to the officers saying that only the legally allowed actions should be taken against those found flouting the curfew.
"Anyone found roaming around past 8 pm should be arrested and presented before a court of law. Assaulting such person amounts to a crime and involved officer shall be held personally responsible for their actions," said Nyaranga.
In June last year after Olenguruone Deputy OCS David Kiprotich was captured on camera dragging a naked woman while attached to a motorbike.
The woman had been accused of cash, a TV set and a police uniform from the officer who was later charged in court.