Narok governorship race hots up as sole female aspirant okayed by elders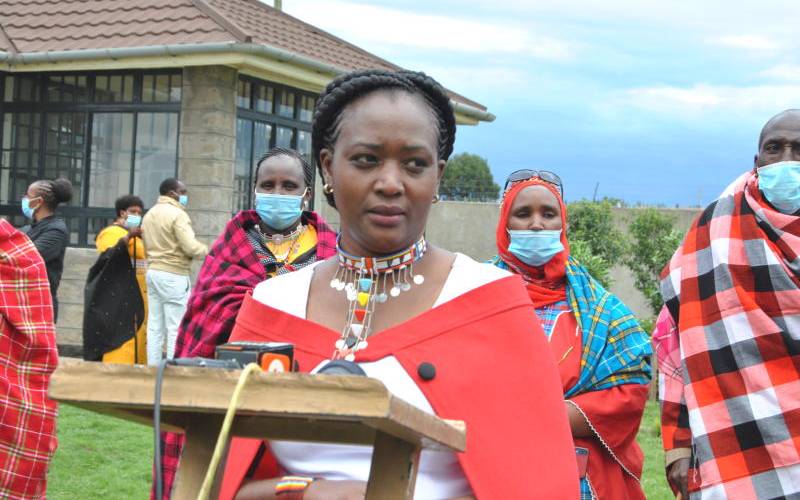 Narok Woman Representative Soipan Tuya has received the blessings of her family and elders to run for governor next year.
Mrs Tuya seeks to succeed Governor Samuel Tunai who is serving his final term.
She declared her interest in the seat late last year.
The seat has attracted political heavyweights from the county, including Labour Cabinet Administrative Secretary Patrick Ntutu and MPs Gabriel Tongoyo (Narok West), Korei ole Lemein (Narok South) and Narok North's Moitalel ole Kenta.
Also in the race are the Sunkuli brothers – Youth PS Charles Sunkuli and Nairobi-based businessman Andrew Sunkuli.
Tuya has been upbeat about her candidature, saying the endorsements and blessings from her family and Ilpurko elders is a boost to her political journey.
"Today I hosted family elders and briefed them on my bid for the governor's seat. I am happy that they embraced it and gave me their blessings.
"I am now free to kick start my campaigns as soon as the Covid-19 pandemic subsides," she told the Sunday Standard.
Tuya's candidature is likely to rattle the populous Ilpurko clan, which will have to decide who among her, Ntutu, Dr Korei, Tongoyo and Kenta will fly the flag.
In the 2013 General Election, the split of votes among members of the Ilpurko clan who vied for governorship made it easy for Tunai.
Clan and tribe politics will determine who wins the seat in a county occupied by the Ilpurko, Siria and Uasin Gishu clans.
There is also the Kipsigis clan with a sizeable number of votes in the county.
In 2013 and 2017 elections, Siria clan teamed up with the Kipsigis sub-tribe to win the seat, upsetting the Ilpurko.
Tuya, who is serving her second term as Woman Rep, said she was in the governor race to win and prove that a Maasai woman can lead.
"I have done my best with Sh40 million National Government Affirmative Action Fund (NGAAF).
"With a budget of Sh10 billion as governor, I will transform this great county," she said.