Counties to get 100,000 fingerlings to revamp farming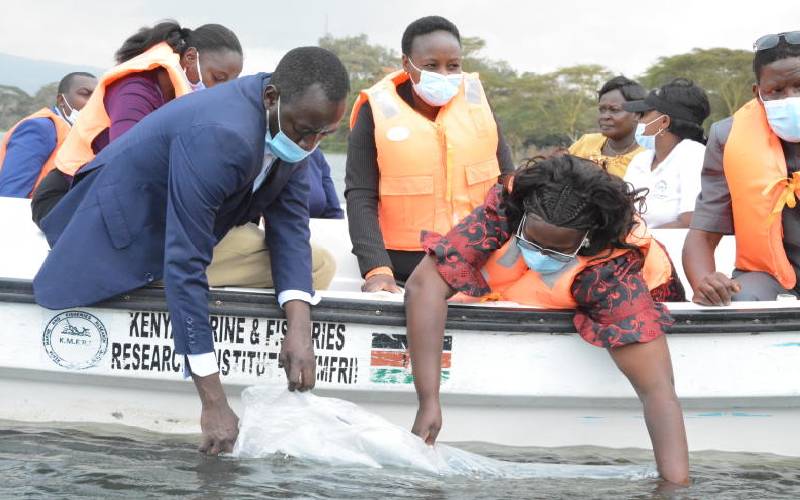 The government has announced plans to donate 100,000 fingerlings to each of the 47 counties in the country.
Livestock and Fisheries Chief Administrative Secretary, Linah Kilimo said the ministry would partner with devolved units to carry out the project.
Speaking at Kinguka in Laikipia West, where she helped stock Kinguka dam with 10,000 fingerlings, Mrs Kilimo said the move was also meant to boost food security, as promised by the Jubilee government.
Kilimo, accompanied by Laikipia Governor Ndiritu Muriithi, regretted that many dams around the country lay idle. "We have seen families sleep hungry, yet dams lie unexploited in their villages. We want to boost their income by providing fingerings to enable them to generate income and also get food," she said.
Kilimo added that the national government was working towards attaining food security, especially in arid and semi-arid areas, as part of President Uhuru Kenyatta's Big Four agenda.
"We want to bring to an end the trend of giving out relief food. That is why we are investing heavily in agriculture," she said.
Acknowledging that warm weather in Laikipia was favourable for fish farming, Kilimo said 10 dams would be stocked with fingerlings, which were expected to mature in eight months.
Besides providing water for irrigation to farmers, Mr Muriithi said, the dams will also serve the purpose of rearing fish. "We want to welcome this kind of partnership by the two governments. It is high time farmers' diversified farming," he said.
Muriithi said the Fisheries ministry would offer technical assistance on fish farming. [James Munyeki]