Treasury CAS Gaichuhie braves jeers as he sells BBI in his turf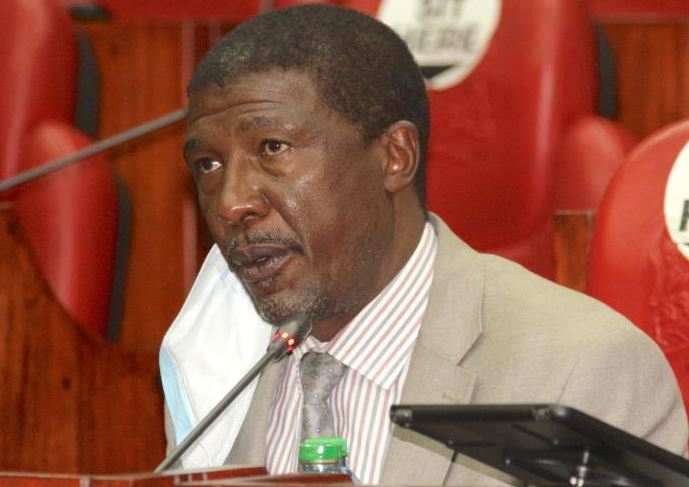 Finance Chief Administrative Secretary (CAS) Nelson Ributhi Gaichuhie on Tuesday wore a brave face as he sold the Building Bridges Initiative (BBI) agenda in his hometuff- Subukia amid jeers.
Gaichuhie, a former Subukia Member of Parliament, continued with his speech despite being booed by residents who had turned up at the NYS Grounds for the burial ceremony of renowned Mugiithi artist Mighty Salim.
The former legislator took to the podium after Gatundu South MP Moses Kuria who had largely moved the crowd with his anti-BBI and anti-Jubilee government speech.
"I have been in parliament longer than you (Kuria). My Subukia people, listen to outsiders but make sure they don't disturb our peace," Gaichuhie said.
Things went south after he started drumming support for the BBI despite having read the mood of the crowd which was largely against a referendum.
"BBI is not a bad thing. I know you have not read it. Even if you will reject it, we shall come to conduct civic education about it," he said as the crowd booed him.
The unmoved politician went ahead to explain how the BBI was set to benefit the common man and unapologetically told off his critics saying that their booing would not chicken him out.
"You won't intimidate me. It is up to you to decide whether to pass or reject it. The ward reps currently have more responsibilities than an MP and it is this BBI which seeks to fund them," he added.
Gaichuhie then lost his cool and declared that he would not identify himself with a certain political group to please them momentarily maintaining that BBI was the way to go.
"Separate BBI from Raila Odinga and you will see its benefits. I told you am not a weakling. I will not call myself a hustler for you to love me. Let us respect one another. I will not be intimidated," he said as he left the stage.
The CAS' move comes a week after Attorney General Kihara Kariuki announced that civil servants were free to endorse the BBI.
"The Constitution does not expressly preclude a government as the national, county level, State organ, or public officer from promoting an amendment to the Constitution through a popular initiative," Kihara said in a statement.
Gaichuhie was first elected as Subukia MP in 2007 under former President Mwai Kibaki's Party of National Unity (PNU) ticket trouncing veteran politician Koigi Wa Wamwere. He secured a second term in Parliament in 2013 under The National Alliance (TNA) ticket.
He however lost the Jubilee Party primaries to incumbent Mr Gachobe in 2017 and sought to vie as an independent candidate.