Police announce breakthrough in probe of Njoro blogger's murder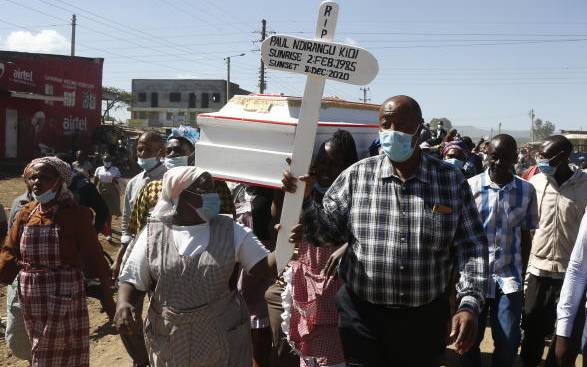 The police have obtained critical data from a mobile phone device belonging to a Njoro activist and blogger brutally murdered on the night of December 7.
Preliminary investigations have revealed that Paul Ndirangu, 35, was attacked and badly injured near River Ndarugu before his body was tossed into the shallow waters.
His death has sparked outrage among the residents who found his body at the scene on the morning of December 8.
"At the crime scene, there were no signs of struggle. The low volumes of water in the river ruled out drowning. When the body was retrieved, there was bleeding through his mouth and ears which made us suspect it was murder," said Njoro police boss Jonathan Kisaka.
Njoro Sub-County Criminal Investigations Officer (SCCIO) Dennis Obiero said postmortem report has also revealed that he was assaulted with a blunt object on his head and strangled.
"He was hit with a blunt object at the back of his head. The report also indicates he was manually strangled. He, however, didn't die instantly since he had water in his stomach and lungs which means he was gasping for air," said Obiero.
His family has also revealed that he had for at least twice reported to the police that his life was in danger vide OB numbers 85/28/2/2020 and 11/23/05/2020 at Njoro Police Station.
However, his father John Kioi, said the case took a different twist as those he had complained against turned him to a suspect slightly over a week to his death.
"On November 28, my son was arrested and held at the same police station. I was shocked that my son was arrested yet he was the complainant in the case. He was released 24 hours later," said Kioi.
Mr Kisaka confirmed the arrest and subsequent release, revealing the arrest was made after he made similar death threats to the complainants.
"He issued a death threat which is a very serious offence. He was summoned and he presented himself at the station where he was held until the following evening. We released him on Sh5,000 police bond to allow us time to investigate the matter further," said Kisaka.
Ndirangu was then directed to report back to the station for further directions of the case which had two parties accusing each other of an intention to cause grievous harm but didn't show up.
"He was to come back on December 4. He never came. We were on the lookout for him. Three days later we, however, received information that he had been found dead in a river," said Kisaka.
The sub-county detectives are in the process of tracking down his last moments which indicate he left his house on his own on the afternoon of December 7 to collect some cash but never made it back to his house.
"His house was still locked. Unlike his habit from our data analysis, at 3 pm he left his phone on the table at home. His TV and radio were still on. He went to Njoro market and later to a miraa joint. He was last seen in the town at 6 pm," said Obiero.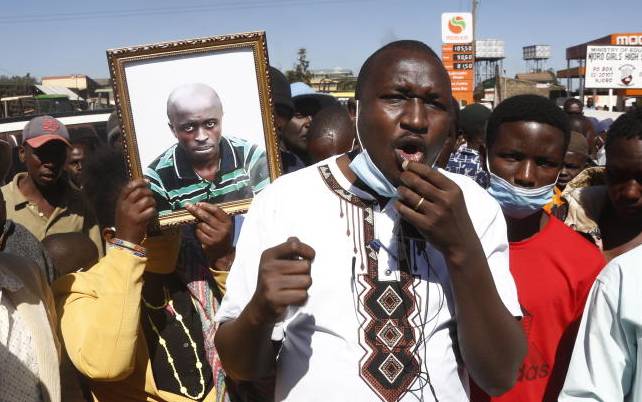 Lured by captors
According to the investigators, Ndirangu might have been lured to a location where he spent more time until it was dark for his captors to execute him.
"The scene is at a busy road. We suspect he was killed during curfew hours when the busy spot was deserted. We have interrogated his last contacts who are not necessarily suspects. This is a high priority case and soon we shall close in on the suspects," said Obiero.
Data from his social media accounts which put him at loggerheads with various persons of interests ranging from politicians, administrators and members of the business community is also being analysed.
His recent posts on social media accounts paint a picture of a man who feared for his life and desperately wanted the public to know that something bad was bound to happen to him.
"When you rise in the morning, thinks of what a precious privilege it is to be alive to breath, think, enjoy and to love," Ndirangu wrote on December 1.
He made a more disturbing post on November 22, exactly two weeks to his death. The post did not attract much attention until he was found dead.
"My enemies do not sleep. Like determined dragons, they are awake to cause harm," he wrote.
And as the police continue to dig deeper, his friends caused a stir in Njoro town during as they headed to his burial ceremony.
The family collected the deceased's body from Egerton University funeral home and marched to River Ndarugu where prayers to declare a curse on his killers were made.
They then carried the casket bearing Ndirangu's remains shoulder high across the streets demanding justice for the fallen activist whom they always called upon.
Led by former Njoro MP Joseph Kiuna, the residents demanded speedy investigations into the circumstances in which Ndirangu died.
"This is a case that has enough leads for the police to expose who the killers are. Those he complained about and those who complained about him should be probed," said Kiuna.
Youth leader Dickson Ogari described Ndirangu's death as unfortunate adding that as a community they had lost a useful person.
"Ndirangu always fought for justice. He was fearless as he faced those he believed were out to deny the ordinary people their rights," said Ogari.
Ndirangu was later laid to rest at Njoro public cemetery.