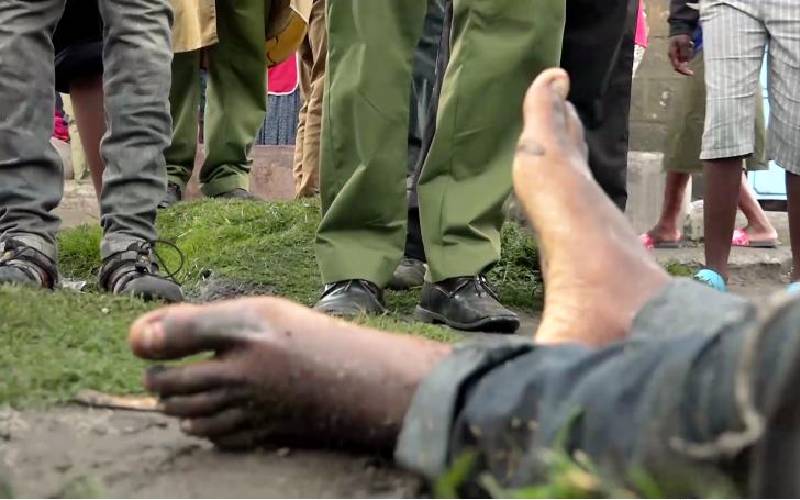 Two rival criminal gangs turned Nakuru town into a battlefield that left four people dead.
In a brazen 3pm attack in Kivumbini slums on Saturday, members of the outlawed Confirm gang faced off with its splinter group Wazito wa TZ, which has shifted its base to Kwa Rhonda slums.
According to community policing leaders, the attack occurred minutes after the splinter group buried one of their members at South Cemetery.
"Wazito gang passed through Kivumbini slums riding on more than 10 boda bodas. They ambushed unsuspecting members of the Confirm Gang and killed one of them," said a Nyumba Kumi leader.
Fistfights
Read More
The two groups engaged in fistfights before the splinter group vanished to the neighbouring Bondeni area after police officers were deployed.
At around 4pm, the splinter group resurfaced baying for blood and blaming Confirm gang for the death of their peer.
"In the second attack, the gang mistakenly killed one of their own who had friends in Confirm. He was a disabled young man taking cover from the heavy rains at one of the shops," he said.
In a retaliatory attack, the Confirm gang cornered a boda boda rider whom they claimed was among those who ferried their rivals to Kivumbini during the day.
"At 7pm, Confirm caught up with a suspected member of the Wazito gang at Makuti area. They slashed and stoned him before the police rescued him. We have established he has died at a local hospital," said the Nyumba Kumi leader.
He said a fourth youth was stabbed several times in the cover of darkness along Kanu Street as the Wazito gang retreated to their homes in Kwa Rhonda slums.
"The gang members are high school students or those who recently completed studies. One of the victims is a 21-year-old and another one known to me is a Form Three student at a local day school. They are young but brutal in their attacks," said a resident who sought anonymity.
The residents say they have lost count of the number of youths killed in attacks and counter-attacks between the two gangs since the year began.
They expressed fear of the continued rivalry between the gangs known for mobile money transfer scams, but who recently moved to town where they are engaging in robbery with violence.
In June, the two gangs clashed at Flamingo Estate where they killed a man who police identified as Alphonse Ogae. He was an innocent bystander.
"During the June attack, they also burned down two homes and destroyed dozens of others as they fought. When they can't get members of either gangs to attack, they indiscriminately attack anyone they find in their way," said Mary Waiganjo, a trader.
Nakuru County Commissioner Erastus Mbui said some suspects had already been identified and were being pursued.
Heavy rains
"The gang from Kwa Rhonda took advantage of the heavy rains. They arrived at Kivumbini on motorbikes, executed their rivals and left. We have identified some gang members whom the police are tracking down," said Mbui.
He attributed the deadly attacks to a continued police crackdown that has destabilised the gang from its operating bases.