Tunai backs BBI, vows to translate report into Maa language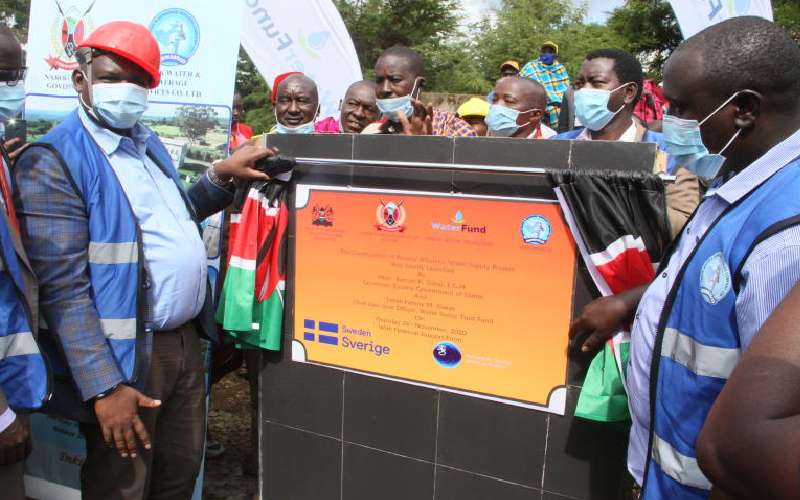 After several months of silence, Narok Governor Samuel Tunai has finally declared his support for the Building Bridges Initiative (BBI) report saying that he will do all he could to popularise the document among the Maa-speaking counties.
Speaking on Friday during the launch of Sh45 million water project at Olaimutiai in Narok East constituency, Tunai, a close ally of the Deputy President Wiliam Ruto, seems to have taken a U-turn over the contentious BBI report.
Governor Tunai who was among the governors who attended the BBI signature collection launch at KICC on Wednesday skipped by the DP Ruto said him and his Kajiado counterpart Joseph ole Lenku will translate the document into Maa language.
"We met as Narok/Kajiado economic bloc (Nakaeb) and agreed to translate the document into the local dialect and popularise it through vernacular radio stations for our community to understand and make a decision," said Governor Tunai.
Tunai reiterated that as local leaders, they will fund experts from the community to educate the populace on the BBI document for them to make an informed choice.
Narok East MP Lemanken Aramat who is an ally of the DP Ruto declined to talk on the document saying they had been 'whipped' against talking over it until their "Tanga Tanga" brigade agrees on the same.
"We had breakfast with DP Ruto this morning and we agreed with other leaders that no one should talk about the document until Wednesday next week when the team will address the media," said Aramat.
At the same time, Governor Tunai told the wrangling group ranch members to withdraw the pending cases in court and resort to out of court agreements claiming that the court cases has delayed issuance of title deeds.
"Most group ranches are yet to get title deeds even after land subdivision. The more the cases drag in court the more you (members) continue to pay lawyers. We as leaders and elders are ready to handle these cases. Withdraw these cases and let us solve them locally," pleaded Tunai.