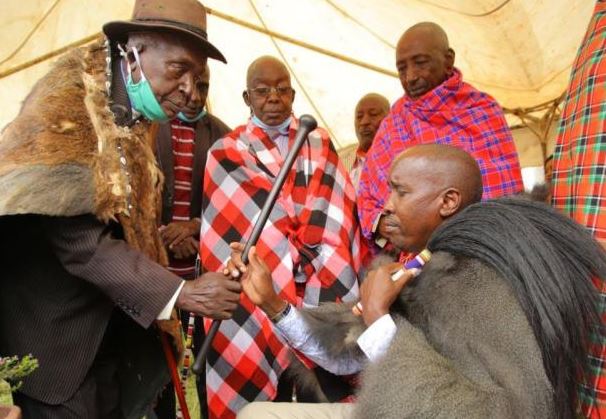 The Maa Council of Elders has picked Kajiado Governor Joseph Ole Lenku as the new community spokesman.
Lenku was anointed at a coronation ceremony in Nakuru County attended by elders from Kajiado, Narok, Samburu, Nakuru, Baringo and Laikipia counties.
The ceremony was led by long-serving Chairman of the Maa Council of Elders, John Maitai, who handed a leadership baton to the governor. Lenku is expected to replace former Cabinet Minister William ole Ntimama who died in 2016 as the community spokesman.
Mzee Maitai said the elders have been searching for a leader who can articulate their issues and be the link between the community and the government.
"We have been thinking about who can be that leader who takes our issues to relevant authorities. We have chosen Governor Lenku and we are confident that so far he is doing a good job on community matters," said Maitai.
The governor was anointed by elders from the respected Ilnyangusi age set and witnessed by others from the Iseuri and Irkitoip age sets as a show of consensus on the decision.
"We are cutting across the age sets. We are passing leadership to a younger and more energetic age set," said Maitai.
He said Lenku was the most acceptable leader to unite the community and urged Kenyans to always contact the governor on issues touching on the Maa community as he knows who he would in turn consult before giving a feedback.
David Lenteo, who spoke on behalf of Samburu elders, said they had confidence that Lenku's peace loving nature would unite the community.
"We have been looking for a reconciliatory figure who is steadfast in promoting our unity as a people. We want a leader who can fearlessly tell this country what we want as a people and be a bridge between us and the government," said Lenteo.
Lenku said the community had a myriad of issues that need to be addressed, ranging from poverty, education, empowerment, cultural preservation and land rights.
"We respect our elders and the decision they have made bestows on me a very huge responsibility. I will discharge this mandate with utmost humility, courage and integrity," he said.