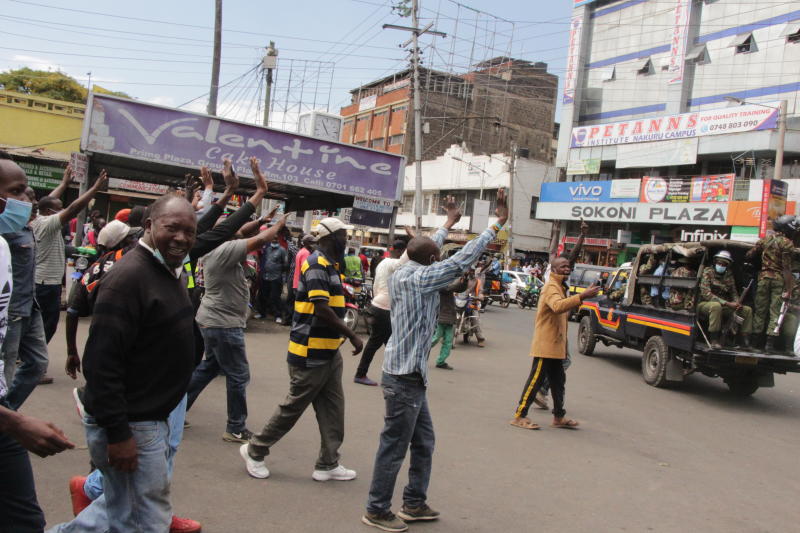 Matatu operators yesterday forced their way back to the main terminus in Nakuru Town centre.
They were expelled from the terminus six months ago.
The move comes at a time Nakuru County is recording an upsurge in the number of Covid-19 cases.
This comes after a motion tabled at the county assembly by Menengai East Ward Rep, Wilson Mwangi, recommending that the operators be allowed back to town was approved.
Read More
Led by their chair Stephen Muli, the operators demanded that the county government respects the assembly's stance.
"We are glad the county assembly came to our rescue. We are back to town and shall ensure our members follow all the Covid-19 regulations pertaining to public transport," Muli said.
Governor Lee Kinyanjui had in March expelled all matatus from the main terminus located in the heart of the town in a bid to decongest the town amid the Covid-19 pandemic.
Last week, Kinyanjui held a consultative meeting with the stakeholders where he maintained that he would not allow them back to town until a new terminus is constructed.
"We have formed a seven-member committee that will come up with a harmonised document for action within 14 days. This will provide a framework for their operations before a new terminus is opened," Kinyanjui said.
Yesterday morning, the operators stormed the town exactly a week after the consultative meeting was held saying that the governor had no choice other than go by the county assembly's resolutions.
"The assembly approved that each of the 86 matatu Saccos is allowed to have two matatus back to their original terminus. We shall go by this decision until the governor communicates otherwise," Muli said.
Police officers deployed to remove the operators from the town centre didn't manage to do so and retreated a few hours later. "We now expect the police to protect us and not harass us. Our people will no longer suffer walking for long distances to access the terminus," Muli said.
The operators were overjoyed with their return and held prayers at the terminus hoping that they will not contribute to a spike in the number of Covid-19 cases in the county.