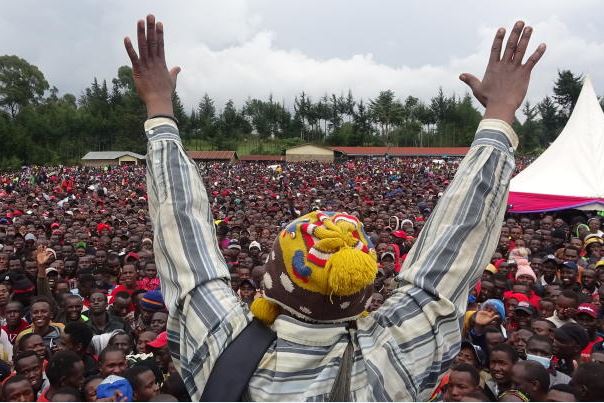 Thousands of mourners turned up to bid farewell to popular Kalenjin musician Harmon Kipkurui Rono aka Rhino Kaboom who died in a road accident a week ago.
The burial at Kapcheplanga Primary School grounds in Kipkelion East constituency, Kericho County, was full of gloom, song and dance as family and friends mourned the 26-year-old star.
Not even heavy rains pounded the area could disperse fans from offering their musician their last respects.
Mourners arrive in style
The mourners who arrived at the venue from as early as 5am used motorcycles. Others came in top-of-the-range vehicles.
Read More
With every siting and standing space occupied, younger fans perched themselves on trees to catch a glimpse of the proceedings.
At around 1:30pm, Emurua-Dikir MP Johana Ng'eno arrived and had to literally fight his way through the surging crowd.
In the emotional speeches punctuated with interludes of music, speaker after speaker described the musician's death as a blow to the music industry.
The late singer's wife, Mercy Rono, described him as a romantic, caring and loving man who put the family first.
"My world has tumbled down. I can't believe I will not see him again but his music will keep reminding me of him. I pray that I will meet him once again in heaven and we will dance and sing together again," she said.
Mrs Rono, who together with the singer had two sons, shared photos they had taken weeks before her husband's death.
Blow to family
The singer's widowed mother Sarah Mutai described the death of her only son as a big blow to the family.
"I nonetheless take refuge in the fact that before my son died, he had composed a song expressing his gratitude to God for granting him the singing talent. That is what makes me happy today, that though my son was a secular musician, he took time to remember what God had done for him and expressed his gratitude to Him," she said.
The singer's grandmother described her late grandson as a generous young man who often visited her with gifts. "Whenever he came home I would be assured of no more sugarless tea for weeks. He never came empty handed," the elderly woman mourned.
MP Ng'eno asked members of the clergy to pray for musicians from the Kalenjin community.
"In 2016, Diana Chelele was murdered, three years ago Weldon Kenene died alongside six other musicians in a road accident. Prayers are urgently required for God to cover them so that they can live long enough to fully develop their talents and enjoy the work of their hands," he said.
The MP asked musicians to establish a savings and credit cooperative to boost their welfare. The late Rhino ventured into music in 2015 after completing his secondary school at Londiani Township Secondary School. The singer produced eight albums. His famous songs include Vera, Criminal Chomyet, Simple Girl, Monica, Tamu Tamu.
As the sun set, the hearse carrying his casket sneaked its way out of the Kapcheplanga Primary School grounds for burial at the singer's village in Chesiliot.