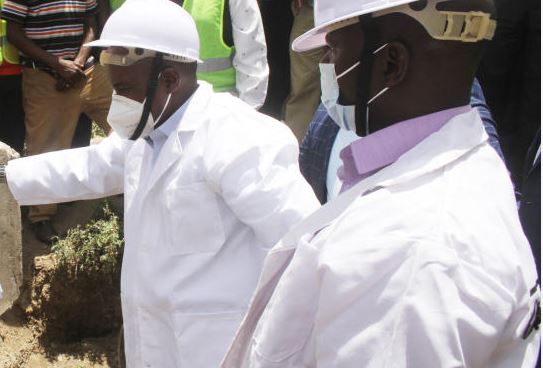 A Sh39 million-sewer which neither the national government nor Kajiado County government were willing to finance has finally been completed.
The six-year project was made possible by a group of 279 landlords who came together to fund it.
Yesterday, Kajiado Governor Joseph ole Lenku officially launched the sewer line project and announced that his government will inject a further Sh20 million to finance construction of the second phase.
Read More
The first phase of the five-phase project measuring 45 kilometres and connecting to the neighbouring Export Processing Zone Authority in Machakos County, is complete.
The project will benefit at least 300 rental flats with a population of more than 20,000 tenants and 100 homes in the area.
Kitengela town has no piped water and solely relies on boreholes and water tracked by donkeys and handcarts. Two years ago, President Uhuru Kenyatta promised residents were to be supplied with clean piped water but the county government down-scaled this by pledging to establish water kiosks which have since been installed in selected areas.
Speaking during the commissioning of the project yesterday, Mr Lenku applauded the residents who pooled resources to put up the Sh39 million sewer line.
"It has been my dream that all satellite towns in the county have sewer lines," he said.
The county boss noted that misunderstandings between the government and the stakeholders that have been witnessed earlier have caused lack of proper planning in major towns.
"I'm happy that the partnership between the county government and the stakeholders has been restored and we are now working together," said the governor.
Residents have been forced to use septic tanks which are expensive to empty, with most rental plots having an overflow of sewerage waste.
An exhaust tanker charges a flat rate of Sh12,000 to empty a sewer manhole.
According to the sewer project's Secretary-General Titus Ndei, residents who have been suffering for years can now breathe a sigh of relief following the installation of the sewer lines.
"Today marks a very important day for this community. We have faced many challenges since we started this project, but we stayed focused and we are now cerebrating the fruits of our joint efforts," said Ndei.
Endangering lives
The residents are further calling on willing stakeholders to support them to ensure the sewer line is complete and extended to more areas within Kitengela.
Kitengela town is characterised by raw sewer being discharged on the roads especially at night due to the high cost of emptying the cesspits, thereby endangering lives.
This is further compounded by the water rationing imposed by landlords to cut down the cost of emptying the pits.