Locals crowd fund to build Sh39m sewer line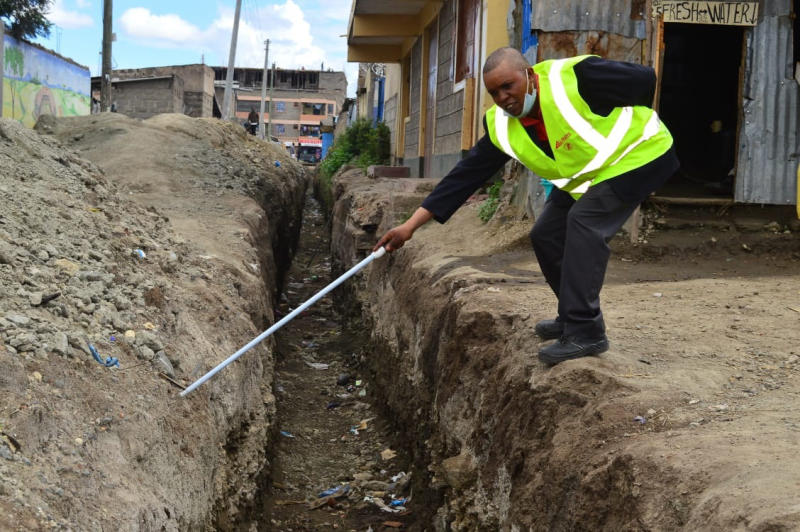 Kitengela residents are constructing a Sh39 million sewer line out of their own pockets after pleas to the county government to do so out of the taxes they pay hit a snag.
The locals comprise at least 279 landlords around Export Processing Zone Authority (EPZA) area determined to improve the region's hygiene and sanitation.
The project's Secretary General Titus Ndei said the scope of the job was reached at after wide consultation with concerned stakeholders resulting in its approval.
"Raw sewage was flowing all over from residential and business buildings in the estates. We lived in constant fear of an outbreak of waterborne disease," he said.
He went on: "Our elected leaders long ignored our plight as most of them don't reside in this neighbourhood."
The 45km sewer line to join EPZA-Athi River sewerage system will serve over 300 rental flats and 100 homes with a population of at least 20,000 people.
It is expected to be complete in six months.
Landlords in Kitengela Phase one contributed Sh200,000 each while those in phase two and three contributed an average of Sh250,000 each.
The populous Kitengela town at large depends on septic tanks, which are cumbersome to exhaust as most rental buildings that use them have an overflow of sewer water.
The residents are further calling on well wishers and the county government to support them to ensure the sewer line is completed on time and extends to far-flung areas.
An exhauster charges between Sh12,000 and Sh18,000 to drain a septic tank. This cost has forced landlords to ration water in their plots to cut down on the in-flow in the tanks.
Public health officials have also expressed fear that some boreholes could be contaminated by leaking septic tanks.
According to the National Environment Management Agency director Joseph Kipejo, some landlords employ unethical measures when disposing sewage.
"We have more than 20 buildings in Kitengela that have been releasing raw sewer on the roads. They are on our radar and we will soon arrest them,'' said Kopejo.