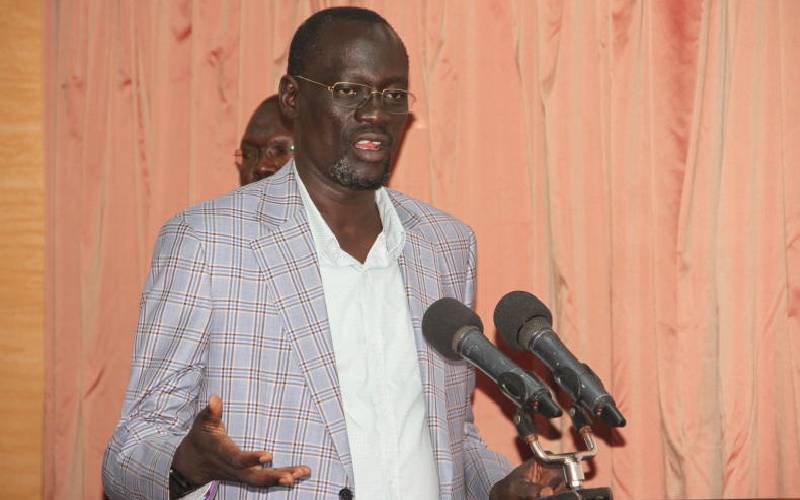 Turkana Governor Josphat Nanok has faulted the government for its silence over uncertainty surrounding Tullow Oil operations in South Lokichar Basin.
Nanok said despite his administration and Turkana County residents being major stakeholders in the oil operations, they have been kept in the dark.
"As major stakeholders, we have been kept in the dark in key decisions involving oil operations. There are pending issues on oil operations that have not been resolved. Tullow shut and later resumed operations without informing us," said the governor.
He said the Ministry of Petroleum and Mining had failed to engage the county government on key issues, including land acquisition, yet they were custodians of community land.
Read More
"The CS comes from Turkana but he is yet to inform us of what's going on. We are waiting for him to call a meeting to enlighten the community," Nanok said.
Speaking during the burial of Ngilimo Merinyang, uncle to Nanok's wife Margaret, in Lokichar, the governor said as an elected leader, he will not tire in defending residents' rights.
"We are asking the CS to convene a meeting and engage with the community to clear the air on reported suspension and resumption of oil exploration by Tullow. The entire process is shrouded in mystery, and we need it addressed," the governor said.
He added, "We feel there is insufficient information on the operations of Tullow Oil being shared by the national government."
In May this year, Tullow submitted notices to suspend operations citing restrictions arising from the coronavirus pandemic as well as changes in tax.
Early this month, however, the company reversed this decision and claimed it was conducting a comprehensive review of the project, including consideration for alternatives to an eventual exit.
Demanded details
Turkana South MP James Lomenen and his Turkana East counterpart Ali Lokiru were in attendance. Two months ago, Turkana leaders demanded details of Tullow's operations and sought formal communication on the firm's audit from Petroleum CS John Munyes.
Kenya exported its first crude oil in August last year amidst uproar from leaders who asked the government to stick to its commitment to equitably share revenues from future shipments.