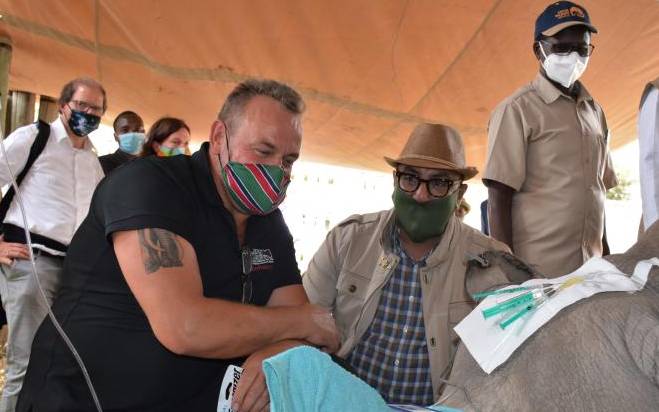 The eggs that were harvested from the last two northern white rhinos for purposes of assisted scientific reproduction have yielded no embryos.
The harvest was done on August 18 by BioRescue team, who successfully collected 10 oocytes (immature egg cells) from the two northern white rhinos, Najin and Fatu.
In a statement dated September 4, Ol Pejeta conservancy said the latest egg harvest from the two northern white rhino females yielded no embryos.
The egg harvest in the race against extinction marked the third time the team collected the egg cells in order to fertilise them and to produce viable embryos.
Read More
"In a lab, six out of 10 oocytes were injected with northern white rhino semen - despite the fact that only two oocytes were clearly matured. Unfortunately, as the quality of oocytes was poor, this time none of them developed into a viable embryo that could be used for an embryo transfer in future," Ol Pejeta said in a statement.
Lead scientist heading the BioRescue project Thomas Hildebrandt said the failure of eggs to fertilise means that it is crucial to collect as many eggs as possible to develop embryos.
"This is a highly advanced scientific procedure that really pushes the boundaries of what is possible in in-vitro fertilisation in rhinoceroses – and in the scientific process, we cannot expect that every single attempt would be successful. Now it's clear how crucial it is to collect as many oocytes as possible and to develop as many embryos as possible," said Hildebrandt.
Currently, there are only two northern white rhinos left after the last male rhino died in 2018. So far, three embryos have been successfully generated.