Joy as Mau Mau veterans are allocated land in Laikipia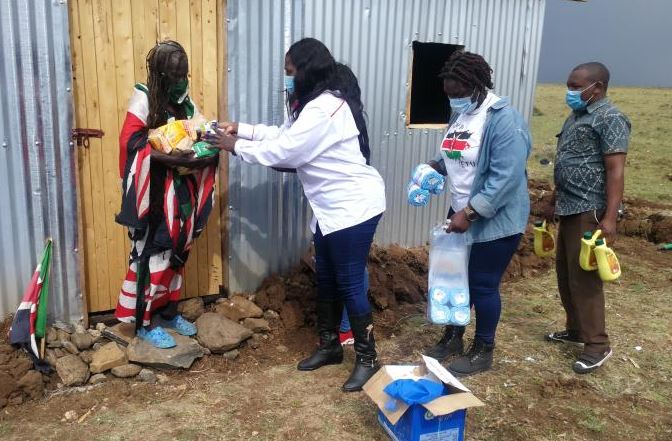 For over half a century, 85-year-old Gaterina Kagendo (pictured left) has been living as a squatter at Timau village in Meru County.
Her husband was killed during the Mau Mau revolution in Aberdare forest and Kagendo's life has been a tale of misery since 1962, as she was forced to turn to begging despite spending nights in the forest to fight for Kenya's independence.
After Kenya gained independence in 1963, the women were hopeful they could enjoy the fruits of liberation. Kagendo thought they will get a piece of land where they could now live comfortably. That dream has taken ages to become a reality.
Today, almost six decades later, Kagendo has a place to call home. She is among 30 Mau Mau freedom fighters who were allocated land by the Dedan Kimathi Foundation at Thome village in Laikipia west. This is part of a 10-cre farm that the foundation bought for the most vulnerable Mau Mau veterans in the country.
According to Dedan Kimathi Foundation Executive Director Wanjugu Kimathi, the foundation had identified the old people living as squatters and have allocated each a quarter of an acre.
The organisation is also building them a two-roomed house. This is part of its agenda to purchase some 12,000 acres, also in Laikipia, to be allocated to Mau Mau veterans.
Already, the foundation has raised Sh100 million to buy the land and is sourcing for more funds to settle the veterans.
"We are in the process of purchasing land to settle them but it was on our way here that we identified this land. We decided to purchase it so that we could first settle the most vulnerable people as we have not yet raised the required amount of Sh2.5 billion," Wanjugu said.
She regretted that most Mau Mau veterans were living in deplorable conditions, neglected by the government. "They are dying with nowhere to be buried yet they fought for the independence of this country. That is why we took it upon ourselves to purchase land and settle them," said Wanjugu. [James Munyeki]
Just like Kagendo, Teresiah Wangui, 80, is another beneficiary. She lived as a squatter at Naromoru until her house was flattened recently to pave way for the revived Nairobi Nanyuki railway.