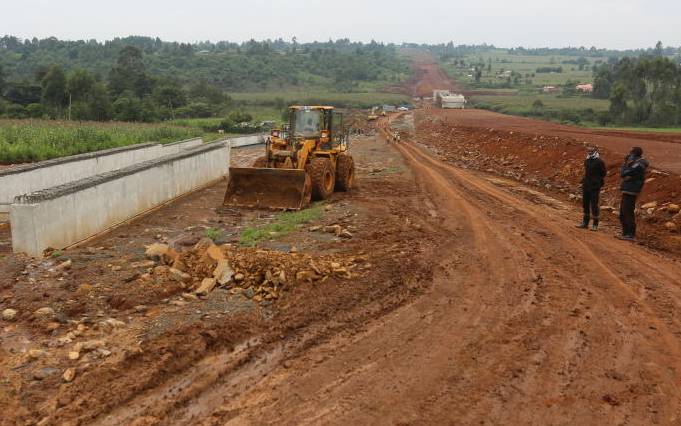 A Sh5 billion bypass being constructed in Eldoret has fallen behind schedule owing to the numerous compensation disputes between landowners and the government.
Construction work on the 42-kilometre Cheplaskei-Maili Tisa bypass, a legacy project commissioned by President Uhuru Kenyatta in 2017, which aims to reduce traffic jams within Eldoret, has slowed down. The road will service trucks diverted off the Eldoret-Uganda highway to ease traffic in the fast-growing town.
According to timelines provided by the Kenya National Highways Authority (KeNHA), the multi-billion bypass is expected to be completed by August 2021. But from the slow pace of works, completion of the project within one year may not be achievable.
A tour of the road reveals that bridges and interchanges are yet to be completed while the opening of the road, which began earlier this year, has been delayed by heavy rains in Eldoret and surrounding areas.
"It will take an average of three months to construct a bridge. After we are done with the bridges, we will then embark on the construction of the road, which will take two years to complete," an engineer supervising the construction of one of the bridges said.
Uasin Gishu County Commissioner Abdirisack Jaldesa said yesterday Sh1.6 billion worth of compensation had not been paid out to landowners.
Late last year, landowners through their representative Simon Samoei, said over 500 landowners had not been paid to pave way for the construction.
Jaldesa said persons yet received their payouts had not moved out of their pieces of land.
According to Jaldesa, Sh1.6 billion had been released to the National Lands Commission (NLC) and will be disbursed to the landowners from next week.
He confirmed that Sh1.4 billion had been released with Sh3.5 billion having been available for compensation.
"So far, 39 per cent of the construction works are complete. A total of seven bridges will be constructed and three of them have been completed. Three other bridges are almost complete," the commissioner said.
"We are behind schedule, but we will ensure the project is fast-tracked. We can't give a possible date of completion now, but we will try our best to complete the project on time."
Paul Maiyo, a resident of Mutwot, said landowners who are yet to be compensated are disadvantaged because the value of land has doubled since the last valuation.
Mr Maiyo said the landowners were paid Sh2 million for each acre acquired for the bypass, using a valuation done in 2012, but today, the price per acre of land has shot up to Sh4 million.
"Residents will receive Sh2 million per acre like the rest of us, but it will be difficult for them to secure land in neighbouring areas because the value is rising every year. I wish the government had concluded the compensation exercise earlier," he said.
Another resident, Isaac Chumba, said locals hoped to benefit from the bypass through increased business activities.
He said several investors rushed to buy land in the area in anticipation of booming business as soon as the project is completed.
"The construction works are too slow. We had hoped that it would be completed on time because we are certain that this will change the economy of areas adjacent to the proposed bypass for the better," Chumba said.
Project engineer Daniel Cherono said 360 landowners have already received their payouts.
Cherono confirmed that more than 500 landowners were still waiting for compensation. "Our completion date remains August next year unless there are factors that will cause any delay," he said.