Border forest that is both a blessing, curse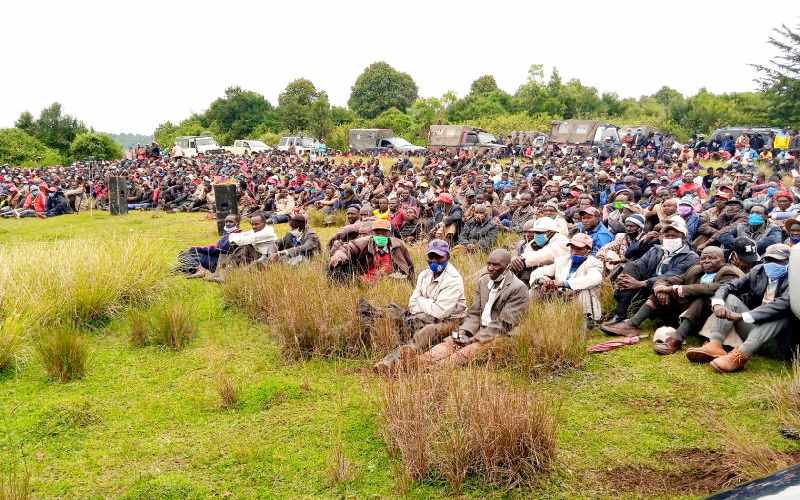 Logoman Forest at the border of Nakuru and Narok counties attracts a curse and a blessing in equal measure.
The forest is part of the Eastern Mau block and with its black fertile soil, it is a rich agricultural area attracting farming activities.
Its ever lush green pasture gets the attention of herders from miles away. The forest also provides an ample environment for beekeeping.
But every year, Logoman Forest turns into a battleground when differences arise among surrounding communities. The ethnic clashes have resulted in loss of lives and abetted cattle rustling.
"We have four communities around Logoman. Clashes always start between two communities. However, others are caught up in the crossfire and the situation often gets out of control," said Joseph Kishoyan, a Maasai elder from Narok County.
Key resource
To the Maasai community who are generally herders living in Narok North, the forest is a key resource, especially during prolonged dry spells.
"There are numerous manyatas within the forest, which only become useful when the herders leave their homes looking for pasture in the forest. At times, they live here for months before returning home," said Mr Kishoyan.
Stanley Rono, a Kalenjin elder, said they grow all types of crops in the forest under the Plantation Establishment and Livelihood Improvement Scheme (PELIS) where the forest had been destroyed by illegal loggers
"Think of any crop that does well in cold and average weather and you will find them in this forest. Cabbages, maize and potatoes are the most common. We market the produce in Nakuru and other counties," said Mr Rono.
For members of the Kikuyu community known for their enterprising tendencies, the script is the same as that of their Kalenjin neighbours.
Fertile land
"We were allowed to do farming in the forest while rehabilitating it. As more people became interested in the fertile land in the forest, its name was changed to Witemere Forest (no man's land)," said James Kinyua, a Kikuyu elder.
The Ogiek community lays claim to the forest as their original home when they lived as hunters and gatherers. Majority of them have, however, embraced modernity though they still live within the cleared forest area.
However, border clashes dating back to the early 1990s and sparked by land ownership, political power struggles and cattle rustling, occur every year.