Bring it on, Jackson Kibor's sons tell father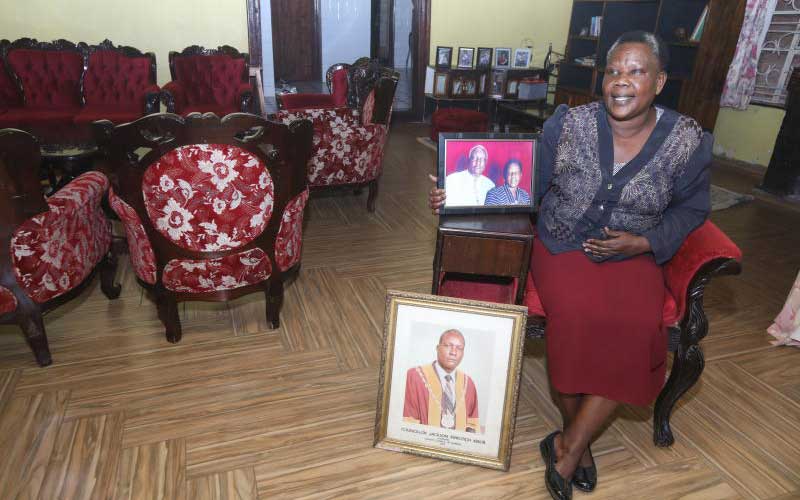 Jackson Kibor's six sons now say they are ready to undergo paternity tests to confirm he is their biological father, as long as the tests are conducted by an independent government hospital.
The sons have also demanded that the body of their eldest brother, Edwin, be exhumed and the remains subjected to the paternity test.
The sons: Elkana Kipleting, Evans Kipkosgei, Ezekiel Kipng'etich, Eric Kipchumba, Raymond Kibitok and Edwin Kipkoech have also indicated that they intend to challenge the ruling that dispossessed them ownership of 1,500-acre land in Kabenes, Uasin Gishu County.
Paternity query
Through their mother Naomi Jeptoo, who Kibor divorced two years ago, the sons said they were shocked that their father was questioning their ties.
"Besides an independent hospital conducting the test, (the body of) their eldest brother Edwin, now deceased, should also be exhumed and tested. This is what the children have demanded and I find it very painful," said Ms Jeptoo.
According to the mother, the DNA test results could change the children's destiny and therefore should be conducted in a facility where the results cannot be manipulated.
She said after her customary marriage to Kibor in January 1975, she gave birth to their first child in October that same year and has never been adulterous.
"I have been a diligent, hardworking, faithful and loving wife to Mzee and I was hurt by the DNA test remarks. If he has doubts about the children's paternity, then he should first exhume the remains of our first born son," she said.
Jeptoo, who was Kibor's third wife, maintained that the children were all sired by Kibor and urged him not to escalate their matrimonial woes to their children.
"Though he has divorced me, I still have much love and respect for him. For over 43 years I never disrespected him nor betrayed him, and if there is any mistake I did, I seek his forgiveness. But he should leave the children out of our woes," she said.
Never married
Kibor announced that he would seek a paternity test on his sons immediately after winning a court battle against them and his employees over the ownership of the Kabenes farm.
"I was never married to Naomi Jeptoo, who is their mother, and I have since divorced her. I doubt her sons are my biological sons and a DNA test must be conducted to prove that they are indeed my biological children before sharing to them my property," said Kibor, 88, after the ruling by Environment and Land Court Justice Antony Ombwayo sitting in Kisumu.
Yesterday the octogenarian reaffirmed his determination to have the DNA tests done.
"If they are truly my blood, they would not have threatened me. The DNA results will dispel or confirm my fears," he said.
He, however, promised that the sons would inherit his property if the DNA results confirm he is their biological father, but vowed to throw them out of his estate together with their mother if the results confirm his fears.
According to Kibor, only his third son Eric, a pilot in USA, will be spared the DNA test because he has been good.