Mudslide victims agree to resettle in Embobut forest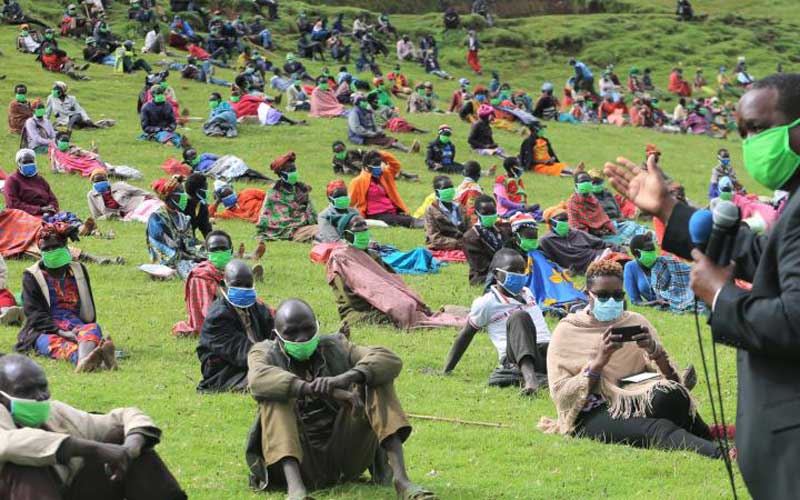 The government has initiated the process that will enable part of Cherangany water tower land to be hived off to resettle residents.
Those targeted are people who have been living on the landslide-prone areas of Elgeyo Marakwet and West Pokot counties.
Already, Kenya Water Towers Agency (KWTA), a State agency, has confirmed it plans to move hundreds of families living on the risky escarpments, and who have been victims of deadly landslides since the 1950s.
During a tour of the Embobut Forest on Monday, KWTA said sections of the forest, which is part of the Cherangany water tower that covers 65 hectares, will be ceded to resettle victims of landslides as a lasting solution to the perennial menace.
Ten days ago, landslides rocked Kipchumwa, Sambalat, Liter and Chesegon areas in the two counties, killing 18 people while 17 others are still missing.
KWTA Director General Julius Tanui said meetings are going on to decide how they will degazette sections of the forest to resettle the victims currently living in deplorable conditions in camps.
Prof Tanui said other State agencies under the Ministry of Environment, including the Kenya Forest Service and Kenya Forest Research Institute have been charged with coordinating the resettlement. The National Government is handling the process with urgency.
"Degazetting a government forest is a long process but resettlement of residents, who are at risk of perishing because of landslides, has to happen," Tanui said.
Speed up process
According to government reports, at least 2,500 families in Marakwet East alone are living in the area prone to landslides. Cherangany water tower is a major source of rivers flowing to lakes Victoria and Turkana.
"We need a long-lasting solution in the landslide issue. But we also have to reclaim the Embobut water tower," Tanui said.
Elgeyo Marakwet Governor Alex Tolgos asked KWTA to speed up the resettlement process, saying the ongoing torrential rains was making the escarpment even more dangerous for human settlement.
Mr Tolgos said it was unfair for Elgeyo Marakwet locals to live on shaky escarpments when the county has 38 per cent forest cover.
"We acknowledge degazetting a forest is a long process, but we request the Ministry of Environment to hasten the process because this is a unique county. We have the largest forest cover and the highest number of squatters," Tolgos said.
The governor said resettlement of Elgeyo Marakwet landslide victims has delayed after State officials and leaders discussed the issue in boardrooms instead of engaging affected locals directly.
He said the Ministry of Environment needs to urgently engage Parliament in the process, adding locals were suffering in evacuation camps in Wewo AIC church and Sambalat.
Tolgos criticised how the residents were evicted from the forest in 2013 and each given Sh410,000, noting the payout was not enough to buy alternative land.
"Our leadership failed to guide the State to offer better compensation. They were classified as internally displaced persons and given Sh410,000, which was not enough for resettlement. We need to review it," Tolgos said.
Several task forces recommended resettlement of landslide victims, but the reports have been gathering dust in government offices.
Embobut MCA Paul Kipyatich said landslide victims may from next week hold protests to compel the State to resettle them.
Mr Kipyatich said the current situation has been occasioned by the 2013 evictions that forced many forest dwellers to resettle on the hanging valleys, which are prone to landslides.