Lonyangapuo's attempt to change assembly leadership thwarted by party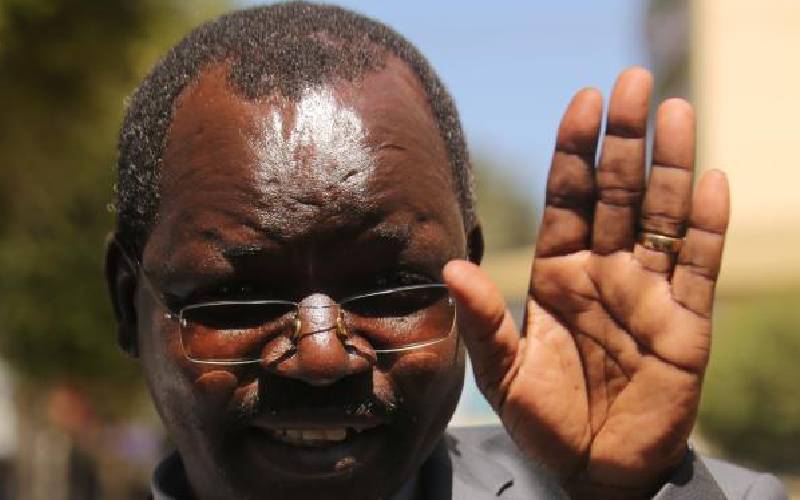 Kanu has reprimanded a section of its party members plotting to initiate a coup in some leadership position in the West Pokot County Assembly without sanction from the party headquarters.
Kanu Secretary General Nick Salat in a letter addressed to West Pokot majority Chief Whip Polokou Emmanuel Maddy asked the members to toe the line and avoid participating in motions of impeachment.
Salat in the letter copied to West Pokot Governor John Lonyangapuo (pictured), speaker Catherine Mukenyang and the Kanu branch chairperson indicated there is a scheme by some top party officials in West Pokot to initiate a coup in some positions of leadership in the assembly held by Kanu members.
MCAs were expected to replace majority leader Thomas Ngolesia and the County assembly chief whip, Polokou, but Salat's letter halted the process.
Salat said Kanu is not in the business of micro-managing the affairs of West Pokot County Assembly, but noted that any actions by party leadership in the county touching on Kanu members must be made after consultation.
The West Pokot Kanu branch has had leadership wrangles in the recent past.
On Tuesday morning plans were underway to remove the majority leader and the county assembly chief whip who are both Kanu members but the party dismissed the changes.
Lonyangapuo had nominated Endugh MCA Evanson Lomaduny to replace Polokou and Weiwei MCA David Kapelsiwa was supposed to replace Ngolesia as majority leader.
Speaking to The Standard, Lomaduny said the changes were arrived at after political supremacy battles among Kanu leaders in West Pokot County, which led to the rejection of the county public service board secretary nominee late last year.
Salat said the party constitution is clear on dispute resolutions and disciplinary procedures.
The articles together with the Code of Conduct and the Loyalty Pledges signed by each elected and nominated leader during nomination, he said, must be adhered to.
The party Secretary General said it is insensitive for the County Assembly to plot changes in the middle of a global and national crisis.
"The party also wishes to draw the attention of the County assembly to the Covid-19 pandemic which has wreaked havoc."
Salat added that it is the party's position to support the government in the fight against coronavirus by observing the guidelines issued by the Ministry of Health.