Pupil, 10, excites public with song on coronavirus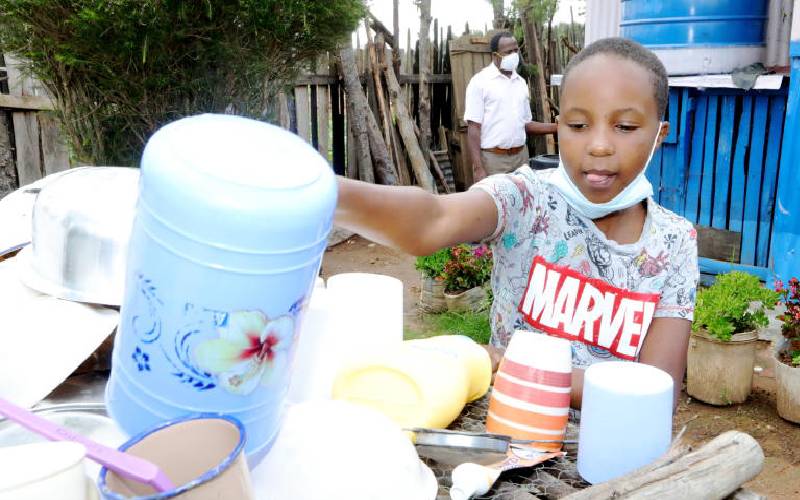 A Class Six pupil has become a national sensation after she composed a song on coronavirus.
Ten-year-old Salome Wairimu captures the effects of the pandemic in her song 'Janga la Korona.'
The song borrows the tone of the freedom song, Wimbo Wa Historia.
"I wrote the song as a composition now that we are at home after the schools were closed indefinitely following the first case of the disease in Kenya. But when my parents went through it, they were mesmerised by the message and asked me to compose a song instead," she said.
She explains that the current crisis in the world inspired her to write the song.
Closed indefinitely
"March 15 will forever be etched on the minds of learners when President Uhuru Kenyatta announced all schools will be closed indefinitely. This is what disturbed me because just like other learners, I feel my dream of becoming a doctor will be shattered by the disease," she states.
Wairimu, who is a pupil at Segero Adventist Primary School, believes that if global citizens adhere to health guidelines we will beat the disease.
We find her doing house chores at their home in Rehema Estate, Cheplaskei, Uasin Gishu.
"It pains my heart when people flout the safety measures aimed at flattening the disease curve. In my song I am pleading with all and sundry to ensure we play our part in fighting the disease," she says.
The song, written in Kiswahili, gives a background of the outbreak of the disease in Wuhan, China, in December last year, before it spread globally.
It goes on to say how Kenyans reacted when the first case was reported and the conduct of leaders and locals in efforts to beat the disease.
"In the song I have encouraged President Kenyatta to soldier on and give the country direction to enable us fight the disease while at the same asking all to play their part since no one is safe," she notes.
Her mother, Esther Wanjiru, says she noticed her last born daughter's passion for music when she was three-years-old.
"Of all my five children, Wairumu has grown demonstrating unique courage, grasp for detail and is a keen listener. When she was three, she started singing in church at the altar, which had never been witnessed before and her songs were uplifting," she recalls.
Ms Wanjiru ensures she does school work as directed by the Ministry of Education.
"On that particular day she wrote a composition about coronavirus and after going through it I was captivated by the message," she says.
Local studio
The mother asked her to compose a song out of the composition.
"When she sang it I was impressed and asked her to accompany me to a local studio that records music for the church. It was not meant for online distribution but for record keeping about the disease," she says.
Wairumu's brother who is in Nairobi shared the song with a local radio station before it went viral.
Wanjiru discloses that Wairimu leads other children in songs in school and church and during holidays they entertain guests during rallies and on national holidays.
Francis Njoroge, an artiste, promises to ensure that the pupil is enlisted with the Music Copyright Society of Kenya to enjoy the privileges.