Officials questioned over 'death trap' toilet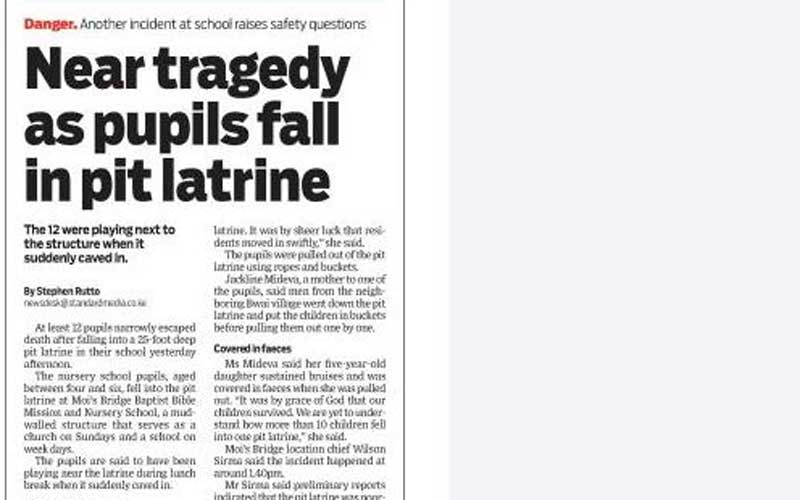 Several people have been questioned by investigators over an incident in which 12 nursery school children fell into a 25-foot pit latrine at Moi's Bridge, Uasin Gishu County.
Investigations into the Thursday afternoon tragedy have begun as questions linger on safety of learners at Moi's Bridge Baptist Bibal Mission and Nursery School in Soy constituency.
This is after education officials said the mud walled church-cum-school was registered in Kakamega County yet it is geographically located in Uasin Gishu.
Soy sub-county police commander Fanuel Nasio said a female teacher at the nursery school, church officials and the 12 children who fell into the pit latrine recorded statements yesterday as investigators sought to establish whether there was negligence.
Mr Nasio said the police have launched a hunt for a mason who constructed the latrine that almost killed the pupils aged between four and six.
Ongoing probe
"A multi-agency team is involved in the investigations. We have recorded statements from several people, including the victims, as we ascertain whether there was negligence," he said.
The police commander said persons who through omission or commission caused the incident, will be charged with attempted murder as soon as investigations are concluded.
Soy sub-county Education Director James Thuma said a teacher and a church leader questioned over the incidence could not produce the institution's registration certificate.
"We have established that toilet the young learners fell into was just a death trap," Mr Thuma said.