'We sold our land to buy oxygen for sick mother'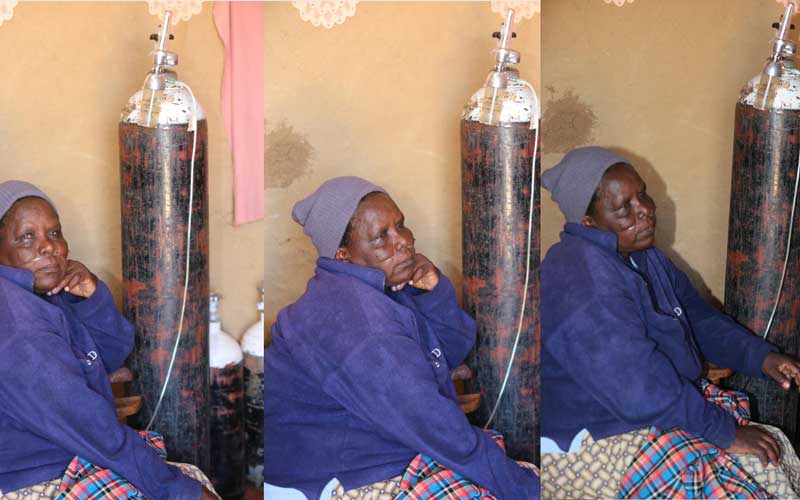 She coughs uncontrollably in her mud-walled house in Uasin Gishu as she positions a nasal cannula.
Beside her, are three oxygen cylinders – one is a 75-kilogramme cylinder and the two smaller ones.
Meet Rose Chemwetich, 55, who has been dependent on oxygen cylinders since 2017, after she developed an agonising disease that made it difficult for her to breathe. Her lungs had failed.
It all started with a simple cough in 2016. What Rose thought was a common cold turned out to be something bigger.
The widow says she visited a local dispensary and was treated for the 'minor' ailment but the coughing persisted.
Four years later, she cannot survive without the oxygen cylinder even for two minutes, her failing lungs cannot sustain regular breathing.
But the biggest worry for the mother of four is that her family is now unable to refill the oxygen cylinder.
Every week, the woman from Moiben Constituency refills the apparatus at Sh4,500.
"When health workers at the dispensary discovered the coughing was not ceasing, they referred me to Uasin Gishu District Hospital for further tests. Doctors there suspected tuberculosis, but tests turned out negative," Rose says.
Condition worsened
When the urge to visit the toilet comes, she wobbly walks to the little room but has to be as quick as possible because she has to return to her oxygen cylinders, which are carefully positioned.
Rose says her condition worsened in 2017 and was admitted to the Moi Teaching and Referral Hospital (MTRH), where medics recommended oxygen cylinders at home after her lungs failed to support breathing.
A short while later, she was also diagnosed with diabetes. This made the situation worse.
"Neighbours have been generously contributing towards my oxygen, but they are now tired. I have sold more than half of the land I am currently residing in to remain alive," she says.
Unable to live an ordinary life, Rose only gets out every two weeks, when she has to visit the MTRH for treatment and assessment, or when she runs out of oxygen.
"Relatives rush me to hospital whenever the oxygen runs out. At the hospital, I am put under oxygen as I refill the cylinders. One of my relatives has turned into a nurse, and sits next to me all the time," she says.
She adds: "I feel a lot of pain in the chest when I cough. My breasts are also swollen. Doctors say there is poor flow of blood between my heart and lungs." A report by a doctor Owino at MTRH indicates that Rose suffers from Chronic Obstructive Pulmonary Disease (COPD).
Experts describe COPD as an obstructive lung disease characterised by long-term breathing problems and poor airflow. According to the report, the condition can only be cured through a lung transplant, a procedure that is unavailable in Kenya.
Devastated family
"She was stabilised on oxygen. She responded well and was discharged to continue with the usual oxygen and insulin," her discharge sheet dated February 17, 2020 reads in part. Rose's daughter, Joan Chepchirchir says her mother's condition has devastated the family. "We have been forced to sell our only farm to buy oxygen for our mother and have to depend on our uncles," she says.
Joan says she secured a job at a hotel in Eldoret in 2017 but turned it down because she had to take care of her ailing mother.
She says her family has been organising fundraising events to get get funds to purchase oxygen, but they have stopped asking for help.
Rose's nephew, Ishmael Kipsang says the family has used more than Sh4 million on oxygen alone.
Ishmael says that in recent months, the family has been struggling to pay for the gas.
"We owe the oxygen provider more than Sh100,000 in unpaid refills and they are threatening to deny us the gas," says Ishmael as he calls on the State to help them in getting better treatment for his aunt.
Jane Naliaka, a neighbour says Rose's family is subdued by the draining health condition, and now feels helpless.